Tom & Chee Franchise Looks Ahead
2020 is the ideal time to invest in a unique sandwich concept backed by a visionary leadership team with 50-plus years of experience
The American sandwich scene is changing and Tom & Chee franchise is a pioneer in the popular space, having perfected one of the most innovative, adventurous and crowd-pleasing menus in the QSR industry. Our creative take on America's favorite sandwich, the grilled cheese, positions us as a unique investment meeting an underserved demand for grilled cheese sandwiches, melts, comfort food and more in 2020 and beyond.
If you're looking for a unique food business to invest in that also is easy to launch, run and scale, Tom & Chee stands out for first-time business owners and experienced restaurateurs alike. With Cincinnati-based franchise company GSR Brands now at the helm since 2017, a bright new future has begun.
"We knew the potential in the Tom & Chee franchise, and we knew that we had the experience to take the brand to the next level," says Roger David, President and CEO of Tom & Chee. "We're so excited to be part of a brand that truly makes people happy, and has such an enormous following in the United States. The improvements we've made to the franchise model makes running of a Tom & Chee restaurant more streamlined than ever before. We're in business to help our franchisees succeed because when they succeed, we all succeed. I can't wait to welcome new entrepreneurs to our franchise family as we continue to grow going forward."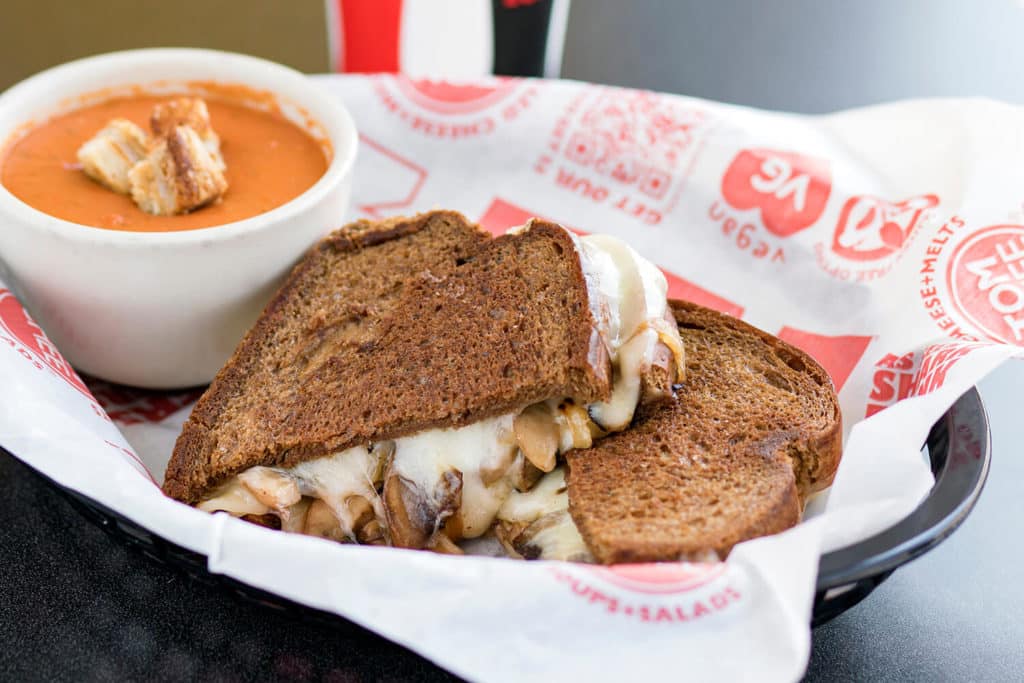 Tom & Chee franchisees benefit from exceptional support
GSR brought its significant experience to Tom & Chee immediately — simplifying the business model, refining the menu and streamlining operations. The new leadership team also worked on improving initial training and ongoing support, as well as rolling out a new restaurant design to give the restaurants an exciting look and a smaller footprint to reduce initial and ongoing costs.
As a result of GSR's efforts, Tom & Chee has enormous potential in the $23 billion sandwich industry. With incredible brand recognition, a highly differentiated product offering, and the commitment to deliver exemplary guest experience, Tom & Chee is ready for explosive national growth for years to come.
Ready to bring the one-of-a-kind melt franchise to your community?
Don't let this franchise opportunity melt away. Join the $23 billion sandwich industry by becoming a Tom & Chee franchise owner. The total cost to invest in a Tom & Chee franchise begins around $302,700 with an initial franchise fee of $30,000 for the first location. GSR Brands consists of more than 50 years of experience, and they are ready to help you prosper. Due to the high level of training and support, Tom & Chee doesn't require you to have restaurant experience, only a passion for food and service.
For in-depth details about the Tom & Chee franchise opportunity, request a copy of our free franchise report. You also can learn more by visiting our research pages.