What is a Tom & Chee Franchise?
Rising SANDWICH & GRILLED CHEESE franchise is spreading love and creating memories as it grows across the United States
Tom & Chee has risen from humble origins to one of the rising stars in the $23 billion sandwich industry. In 2009, the first Tom & Chee location literally popped up in a tent near the ice-skating rink in downtown Cincinnati, Ohio, during the winter holidays. Since then, Tom & Chee has become a nationally-recognized brand after appearing on Shark Tank and growing to more than 12 locations in seven states.
The food is the reason Tom & Chee has had lasting success. We are elevating comfort food by serving delicious, handcrafted melts including our own unique spin on beloved sandwiches like the Philly Cheesesteak, the Cuban and Cincinnati's own Westsider. Tom & Chee's sandwich & grilled cheese franchise mentality is one of a kind and invites customers to experience some of their favorite food.
While many of us have fond memories of parents making grilled cheeses for us in our childhoods, Tom & Chee has taken this beloved American institution to another level by being the best sandwich & grilled cheese franchise. The Grilled Mac + Chee features cheddar, mozzarella, mac and cheese, and bacon served on toasted hearty white bread. We also offer an array of handcrafted melts, Tom & Chee also serves homemade salads and soups, because what goes better with a melt?
One little secret about why Tom & Chee's food is so craveable: we make everything with love. Our menu is diverse enough to appeal to every lifestyle and dietary preference, as well as to every craving. Whether it's a savory melt or our famous Grilled Cheese Donut and S'More donut, we serve exactly what customers are looking for.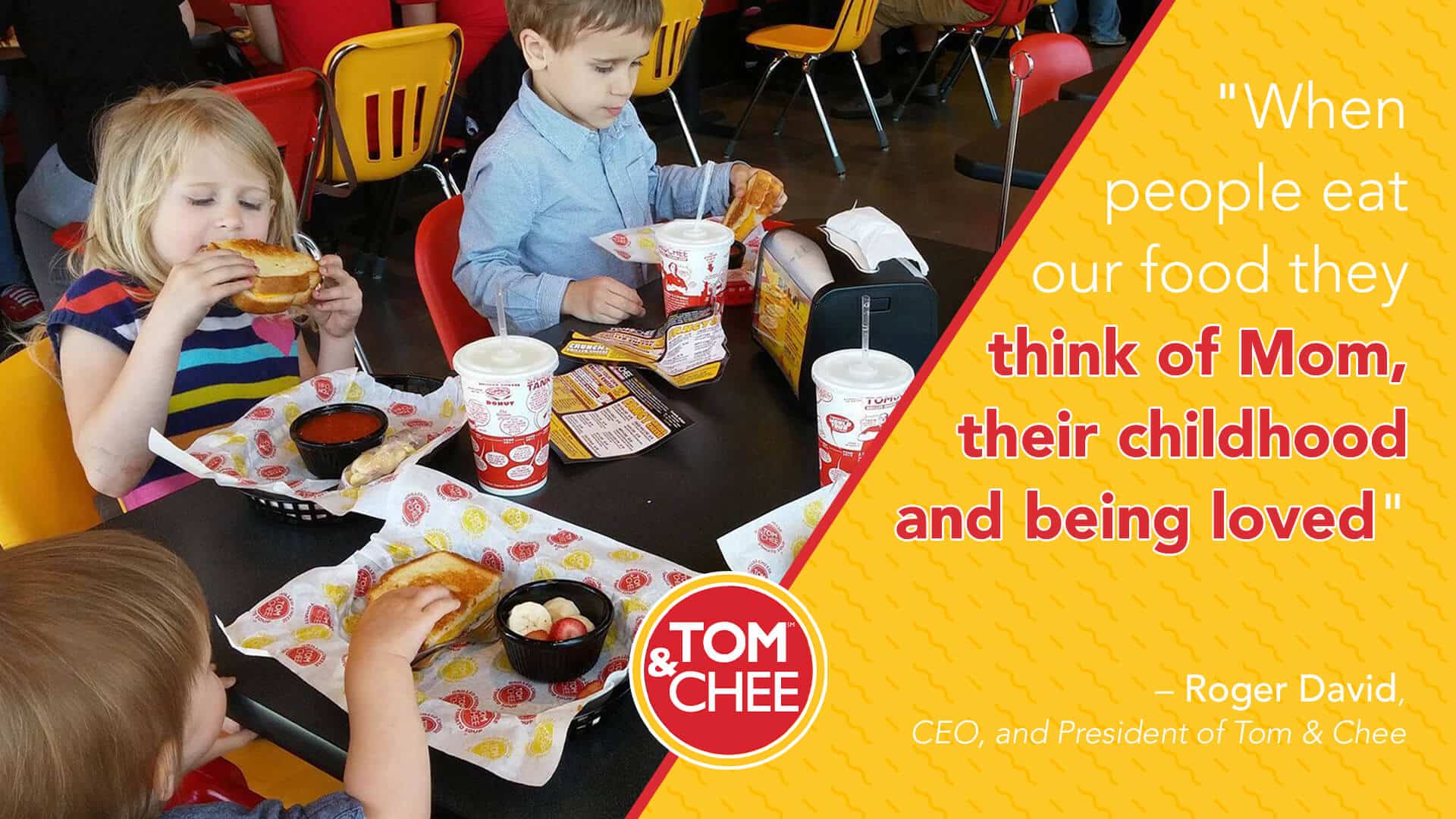 "Our food was founded on the idea of connecting with people and creating memories," says Jenny Rachford, Co-Founder and Franchise Development Coordinator with Tom & Chee. "Everything begins with the food: the handcrafted melts, homemade soups and salads. The food industry is crowded and competitive — you have to have amazing food to succeed. What really leads to the success at Tom & Chee is the guest experience, from every smiling face that they see, to the cheerful environment that surrounds them, and of course, the food. That's what inspires our guests to not just come back, but to come back with their friends and family. The concept of a sandwich & grilled cheese franchise or melt shop may be new, but the menu items and fantastic customers have been around forever"
Tom & Chee is committed to helping franchisees thrive
Because the majority of Tom & Chee franchise owners join our franchise family without any experience in the restaurant industry, we have made significant investments to ensure that our franchisees are poised for success from the get-go.
Under the new leadership of GSR Brands, a franchise system with more than 50 years of experience in helping franchisees thrive, a sandwich & grilled cheese franchise is now easier to run and own than ever before. GSR Brands' leadership team has invested in significant improvements to the proven Tom & Chee franchise model. Streamlining operations makes daily prep easier, and a simplified menu is more attractive to guests and easier for employees to master. Right-sizing restaurants make both initial buildout costs and monthly rent more affordable, and updated restaurants with a vibrant new look and feel that is fresh, modern and bright is perfect for creating the memories our sandwich & grilled cheese franchise brand is known for.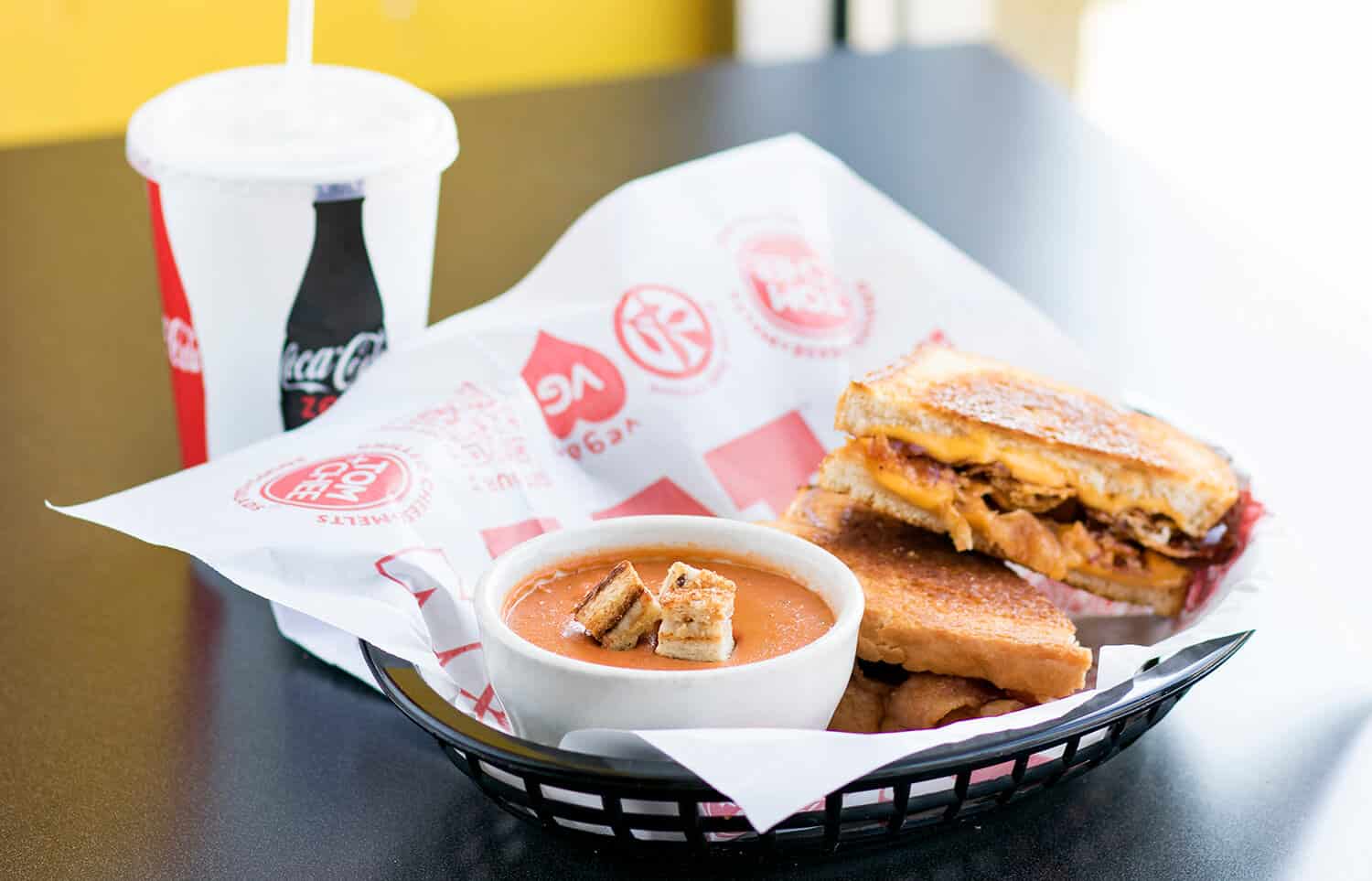 The new leadership team has also made significant investments in training and ongoing franchisee support. New franchisees have access to a full suite of comprehensive support platforms, including a real estate team to help you choose the perfect location, an in-house marketing agency that will help you spread the joy of your business with your community, ongoing financial coaching, frequent visits by field representatives, and a state-of-the-art ongoing training technology platform. This technology will help you train your team on an ongoing basis to make onboarding new employees much easier. It is frequently updated with new content to ensure your business continues to run effectively.
Most importantly, Tom & Chee is a family-owned business in every sense of the word. That family dynamic has created a culture of support that feels like family — because it is.
"When we say we are a family business, we mean that we treat everyone — customers, franchise owners, vendors, suppliers — like family. It's how we've always done things, says Roger David, CEO and President of Tom & Chee. "We're very excited to welcome new entrepreneurs who are passionate about food and being a part of their communities to our growing franchise family, as the Tom & Chee sandwich & grilled cheese franchise continues to grow well into the future."