Sandwich Shop Marketing: How to Promote Your Menu and Gain Customers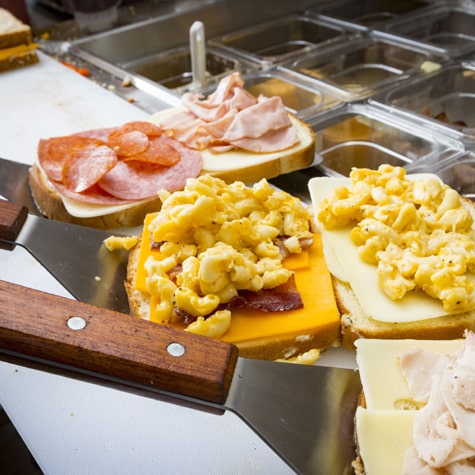 Before opening your sandwich shop, learn about the best practices in marketing to attract customers and keep them coming back.
A MOUTH-WATERING CONCEPT
With thousands of sandwich shops to choose from in the United States, it's essential to find ways to set your business apart from the competition. Tom & Chee was founded on one of America's favorite meal combinations: the classic grilled cheese and tomato soup. Since its inception in 2009, Tom & Chee has found ways to go far beyond the classic and develop a menu that appeals to every palate and family member. The inclusion of signature items like the Grilled Cheese Donut and tasty alternatives such as soups and salads make Tom & Chee a standout concept in the world of elevated comfort food.
A WELL-PLANNED MENU
Customers love options. More specifically, they love engaging in the process of choosing what to eat. So instead of simply offering them a laundry list of menu options, giving customers the opportunity to create their own meals through menu customization can appeal to a broad range of diners.
Well-curated menus offering a limited selection of fresh, simple ingredients in a range of combinations can offer the customer more freedom than a book-sized menu with all the dishes already set in stone. With smaller, customizable menus, the restaurant can focus more on the quality of the food it's turning out. Fewer menu items, when used to create inventive, personalized dishes, can cross all dayparts and expand revenue opportunities.
Mindfully shrinking and customizing your menu benefits your bottom line. In most restaurants with traditional menus, about 80 percent of your profits come from about 20 percent of your menu items. Every conventional menu has its most popular items and its items that don't receive as much interest.
A streamlined menu with limited customizable options will mean fewer ingredients to purchase and manage. Menu customization makes it possible for you to maximize ingredients by using them in various combinations. This way, you aren't relying on one or two dishes to do all the heavy lifting for the restaurant's profits.
GET DIGITAL
Online marketing drives restaurant sales now more than ever, so you should start by maintaining an active web presence through social media and a compelling, interactive company website. Digital marketing is as much about promoting your brand through various channels as it is about gathering feedback from your customers.
Potential customers may be enticed by exclusive incentives offered through digital campaigns and newsletter or email subscriptions. By tracking your online followers, subscribers, and "clicks," you can gain a clearer sense of the demographic makeup of your customer base, which will assist you with future targeted marketing efforts.
The internet cannot be underestimated for the level of prospective customers you can reach. Foodie types garner massive followings and are beneficial to appeal to, particularly in a restaurant's early stages. Whether they post reviews on Yelp, Facebook, or their personal blog, people with good taste and adventurous dining habits can have hundreds or thousands of followers in your market. Reaching out to these people individually is a great way to use their social media influence for your benefit.
One way to do this is to offer them and a guest a free drink, dessert or meal at your restaurant. You could even create a special for anyone who comes in from their review by creating a coupon code they can share with followers.
PARTNER WITH TOM & CHEE
Sandwich shop marketing and promotional endeavors can be costly and overwhelming for independent restauranteurs. Tom & Chee provides franchise owners with comprehensive, ongoing marketing support from the day they sign on.
What began in a small tent next to an ice-skating rink in Cincinnati's Fountain Square quickly but quietly grew to multiple stores in the Cincinnati market. GSR Brands, a 50-year-old family-owned company, bought the successful franchise in 2017 and has strengthened the business model by simplifying operations, improving training and support, and refining the menu. Tom & Chee has been featured on ABC's Shark Tank and The Chew as well as The Travel Channel's Man vs. Food Nation and Amazing Eats. The Today Show named our Grilled Cheese Doughnut one of the "Best Sandwiches in America."
Tom & Chee provides next-level marketing techniques on both a local and brand-wide scale, ensuring that every franchise owner benefits from the expertise of a team of professionals who are invested in your restaurant's continuous success.
LEARN MORE ABOUT THE TOM & CHEE OPPORTUNITY
From opening day and beyond, Tom & Chee assists you with everything from formulating your sandwich shop business plan to attracting customers to your new location, retaining repeat business, and drawing in new diners on a regular basis, all with the goal of keeping your shop growing and serving hungry, happy customers.
To learn more about franchising opportunities with Tom & Chee, request more info today.