Grilled Cheese Franchise: Reasons to Open a Tom & Chee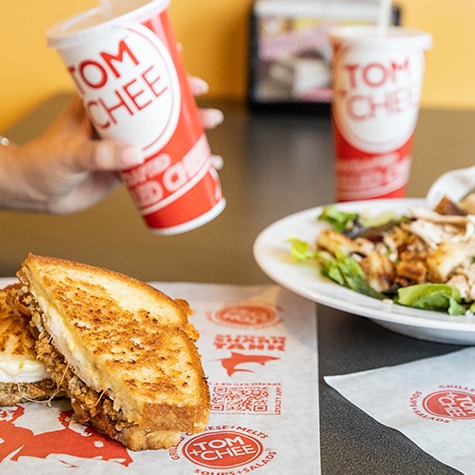 When you open an iconic Tom & Chee franchise, you'll have the support of an entire franchise team ready to help your business succeed. Let's dig in and learn more about making your restauranteur dreams become a reality.
FIND YOUR GROOVE
The grilled cheese is one of America's most beloved sandwiches, and there are few meals more iconic than a grilled cheese and tomato soup. Tom & Chee has literally built its business on providing delicious comfort food with a fun and dynamic twist.
While a variety of sandwich shops may abound, Tom & Chee is the only grilled cheese sandwich franchise prepared to offer a unique meal to customers and a delectable opportunity to prospective investors.
HIT YOUR SPOT
Tom & Chee knows how crucial it is to find the perfect location for your new restaurant. Our franchisees benefit from the market research and site analysis provided by a team of experts whose primary goal it is to see you attract droves of customers on opening day.
Tom & Chee has perfected our restaurant site selection criteria to find you the ideal spot. Through maintaining long-standing relationships with brokers, contractors, and other pertinent sourcing and building professionals, Tom & Chee's team will provide assistance and support all along the way.
WORLD CLASS LEADERSHIP
Tom & Chee's executive team is fully invested in every franchisee's success. From stellar professional backgrounds to personal connections to the brand's history and values, each individual working toward keeping Tom & Chee a winning franchise is committed to everything our brand stands for.
NEXT-LEVEL MARKETING
For independent restauranteurs, the task of promoting your business and engaging with the public can be an overwhelming endeavor. At Tom & Chee, the marketing and advertising work is comprehensive and ongoing. With other franchise brands focusing solely on getting you through opening day, Tom & Chee provides an extensive, lasting system to help you draw in customers and keep them coming back for more.
TOP-NOTCH TRAINING
Whether you are a seasoned restauranteur or first-time owner, Tom & Chee provides the comprehensive training to get your business in shape to operate to perfection. We train new franchisees from the ground up, educating you on everything from day-to-day operations to promotional and community outreach opportunities and more.
While aspects of the process are similar across the industry, Tom & Chee believes in exceeding expectations. Our franchise model stands above the competition when it comes to comprehensive franchisee training and ongoing support. Our strong brand values and emphasis on quality and service promote an enthusiastic atmosphere that attracts only the best franchisees.
A TEAM WHO HAS YOUR BACK
Tom & Chee is invested in the success of each and every franchise owner, and we show our commitment through unwavering support from the day you choose to open your sandwich restaurant. As part of our ongoing franchise relationship, T&C provides franchise owners with a comprehensive operational guide and 24-hour access to team members to address any questions or issues that may arise. Tom & Chee franchisees work with calibration specialists to ensure seamless operations and success on a regular basis.
A WINNING REPUTATION
Beyond serving memorable, delicious meals that every family can enjoy, Tom & Chee maintains a stellar reputation among its current franchise owners, which speaks volumes to the success and longevity of the brand.
New Tom & Chee owners join a growing community of franchisees who prioritize their positions in their communities and are able to build lasting bonds with their neighbors while simultaneously building their business.
CHOOSE TOM & CHEE
Tom & Chee sets the gold standard for serving delicious, heartfelt comfort food.
By providing franchise owners with world-class training, support, and a network of enthusiastic brand ambassadors, Tom & Chee ensures that you will be primed for success.
To learn more about Tom & Chee franchising opportunities near you, please visit us