Benefits of the Franchise Life: Why Own a Restaurant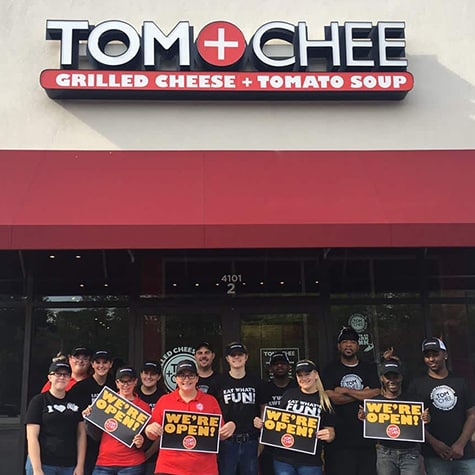 Why become a franchise owner? Learn about the benefits of the franchise life and why you should own a fast-casual restaurant.
WHY CHOOSE THE FRANCHISE LIFE
Investing in a franchise brings about a lot of benefits. Business owners who choose the franchise life tend to have a leg up over those who choose to independently start their business. Here are some of the bigger advantages.
NAME BRAND RECOGNITION
When joining a franchise, you're joining a system with an established brand — this includes the business name. Customers tend to shop with brands they know, giving you a bigger clientele than if you were to start your business on your own. Having a household name can also help with your employee recruitment efforts.
PROVEN BUSINESS MODEL
An experienced franchisor has put in hard work through trial and error to perfect their business model. 50% of independent businesses fail within the first five years. However, when you sign with a franchise, you get direct access to a replicable model for your location. Having a proven business plan can also help in securing funding. Banks tend to be more willing to loan money to those with a solid business strategy. With a franchise, you know the model works — taking the  mitigating your risk and helping to ensure success with your business ownership.
TIME FLEXIBILITY
Do you know the number one reason for entrepreneurship? You guessed it, its FREEDOM and FLEXABILITY. Joining a franchise system allows you to be the boss and chase your passions! A critical step in achieving this freedom is establishing a supportive culture and solid team. When you have trusted people working in your business, you get to have a more flexible work schedule. Yes, you should be active in running your business, but if you find that you do your best work in the evening or early in the morning — that's just fine.
When you're the boss, there's no need to stress about punching the 9 to 5 timeclock. Cutting out a little early to get to your kid's ballgame isn't a big deal when you have a strong team in place to keep things running after you leave.
ONGOING TRAINING AND SUPPORT
Speaking of a strong team, one of the advantages of owning a franchise is that the brand is completely invested in your success. Therefore, a reputable franchisor should offer training for you and your staff, along with continuous support to make sure you're steadily growing your business. Should an issue arise in your location, you should be able to call headquarters to receive valuable guidance.
But it's not just corporate support. An under-appreciated factor of franchising is the access to a full network of like-minded business owners. This gives you an opportunity to connect and collaborate with people who have the same goals as you.
SO, WHY A RESTAURANT?
You're ready to consider franchising, but why a restaurant franchise? What's so special about restaurants?
For starters, restaurants are fast-paced environments. Every day in a restaurant is different, bringing about new and exciting challenges. If you're someone who just can't stand the idea of sitting behind a desk anymore, a restaurant may be the right fit for you.
Owning a restaurant is also a very social business. Restaurant owners should be checking in with guests to make sure they're happy with their meals. They also should be creating a team and culture of hospitality. There's an old adage about business ownership: "Take care of your employees and they will take care of your business and guests." This very much applies to restaurants, as well. Part of the restaurant franchise life is meeting new people and being personable. If you tend to get shy in crowds, you may want to think heavily about whether or not a restaurant is for you.
While many restaurants struggled during the pandemic, those with the support of franchisors were better able to remain steady during uncertain times. Many restaurant franchises are equipped with online or mobile ordering in addition to delivery or take-out services, keeping ahead of consumer demand.
TOM & CHEE: THE BEST OF BOTH WORLDS
When considering the restaurant franchise life, look no further than America's favorite sandwich brand, Tom & Chee. After multiple successful TV appearances on ABC's "Shark Tank," Tom & Chee became wildly popular. In 2017, GSR Brands acquired the franchise and immediately began making positive changes to the system. From streamlining the operations to simplifying the menu, Tom & Chee is backed by 50+ years of franchise experience — meaning you will be, too.
With a state-of-the-art training program and new restaurant design, our Tom & Chee franchisees are set up for success. But don't just take our word for it; see all of our Tom & Chee franchise reviews on our website.
The sandwich industry is valued at a whopping $23 billion, and our brand is on the verge of explosive growth. Tom & Chee offers an innovative and fun concept that's unlike any other brand in the sandwich market. Now is the time to invest in this lucrative industry. To request information about our franchise opportunity, fill out this form.