Subs Franchise Alternatives: Say Goodbye to the Boring Sub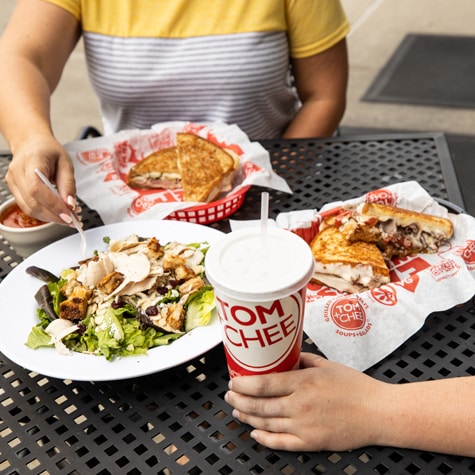 The past decade witnessed the rise to power of fast-casual restaurant concepts. Within that segment, the sub sandwich market has been successful, though it is now inundated with brands. What once was a point of difference has evolved into a sea of relative sameness.
And even though the sub market remains strong, the proliferation of that common sandwich platform has set the stage for other craveable types of sandwiches to truly stand out.
From Subway to Potbelly to Jimmy John's to Firehouse to Jersey Mike's and beyond, franchises already have the subs category covered, so entrepreneurs entering the sandwich market are looking for alternatives to excite guests.
1. Grilled Cheese and Other Melts
Comfort food never goes out of style, and it's become even more sought-out during the nationwide pandemic, according to Forbes. It's prime time for melts, with or without meat, to shine.
It's why you see brands known for other types of sandwiches adding melts to their menus. For instance, Jack in the Box added to its grilled sandwich line with a Bourbon Barbecue Steak sandwich, and Friendly's offers a SuperMelt selection, including several sandwiches using different combinations of meats and cheeses.
2. The Pull of Pork
Pulled pork sandwiches have worked their way into the American consciousness as part of the comfort food movement. Slow-roasted pork under a blanket of cheese, pickles, and indulgent condiments is a winner.
3. Chicken Keeps Clucking
Chicken sandwiches, which gained popularity in 2019, are still going strong in 2020 — some say the top food trend. Many fast-food giants marketed fried chicken sandwiches in 2019, and the craze continues.
In fact, chicken sandwiches have been nearly 300 percent more popular so far in 2020 than in 2019.
4. Wrap it Up
Even sub stalwarts such as Subway now offer wrap versions of many of their sandwiches because many consumers favor this option. A wrap affords a lighter culinary experience than bread.
5. Plant Your Flag
Look for plant-based options, including vegetarian and vegan menu items, to continue to pop up more and more on sandwich menus. Smart entrepreneurs will get creative with veggie sandwiches and expand their appeal to the increasing number of guests searching for delicious plant-based foods.
Tom & Chee
Cincinnati-based Tom & Chee aligns on-point with a number of these trends, presenting a profitable franchise opportunity for entrepreneurs hungry to enter the sandwich scene with a concept that is more than just a grilled cheese sandwich franchise.
Specializing in grilled cheese and other melts, Tom & Chee is an iconic franchise seen on the hit television show "Shark Tank." The brand stands out in the $23 billion sandwich market with elevated comfort food.
And Tom & Chee checks the proverbial boxes when it comes to desired options. Looking for chicken? They've got Crunchy Garlic, Kickin' Chicken and the Chicken Bacon Ranch. Pork? Try the Cubano or Flying Pig. Vegetarian options? The Hippie Chee, array of soups and handcrafted salads are sure to please.
Though a subs franchise can be successful, entrepreneurs looking for an alternative to that saturated segment are wise to consider a Tom & Chee grilled cheese sandwich franchise.
For more information about Tom & Chee franchising, visit tcfran.hyperdrivei.com.