How and Why to Start a Sandwich & Grilled Cheese Franchise
Americans are all-in on their favorite comfort food, and you can cash in when you start a sandwich & grilled cheese franchise
The verdict is in: Americans love comfort food, and when it comes to comfort, grilled cheese is the king. Restaurants specializing in grilled cheese, hot soups, and other comfort foods have experienced explosive growth in recent years. That growth isn't slowing down, either.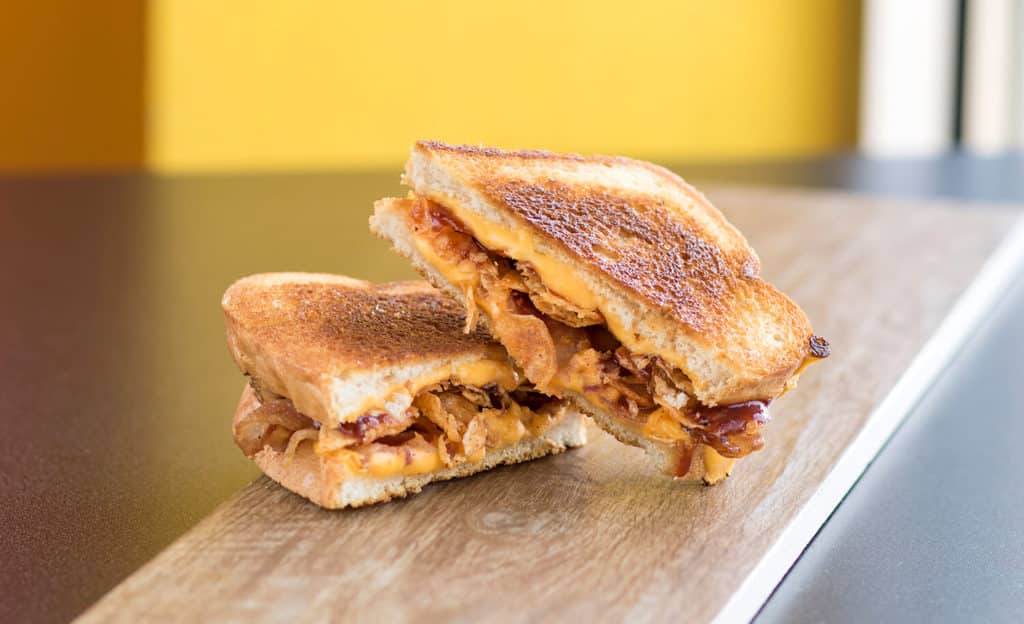 Part of the reason is that Americans have changed the way they're eating to embrace our favorite foods,  as Thrillist's Christie Rotando pointed out.
"In 2008, as our country entered into the deepest recession since the 1930's, cheese consumption reached it's highest point in decades: 33.64 pounds per capita, according to the USDA," Rotando writes.1 Rotando adds this trend is driven largely by nostalgia. "(The) power behind comfort food isn't just subjective. Studies show that the dishes we identify as 'comfort food' are most likely determined by what our primary caregivers fed to us as children."
Think back to childhood, and chances are you immediately remember your mother's grilled cheese, always toasted to perfection, served with love, and sometimes with a hot cup of soup. If your mouth just watered, then you understand the time to start a sandwich & grilled cheese franchise is right now.
Starting a Sandwich & Grilled Cheese Franchise Taps a Growing Trend
Restaurants specializing in grilled cheese and other melts have been gaining a lot of attention. See Shark Tank, where Tom and Chee captured the attention of the sharks and landed a deal. Meanwhile, restaurants added gourmet grilled cheese sandwiches and melts to menus and food trucks got in on the action.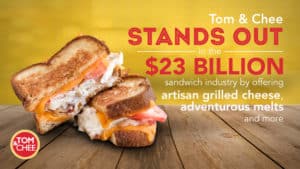 However, all of these businesses have one thing in common: they take "traditional" grilled cheese to the next level with dozens of cheese varieties, on different breads, and filled with bacon, fresh vegetables, or even grilled chicken. Why are restaurants jumping into grilled cheese and grilled melts? Internet trends site Ranker has that answer.
Grilled cheese consistently ranks at or near the top of the list for America's favorite comfort food, outranking chocolate, ice cream, and mac and cheese.2 Americans love our grilled cheese, and the market is ripe for starting a grilled cheese company in your neighborhood.
7 Steps to Start a Grilled Cheese Company
1. Effective Branding and Marketing
Opening any restaurant requires effective branding. That means you need a catchy name people will remember, a logo that grabs attention, and marketing materials such as take-out menus, web site, social media, and business cards so people remember you.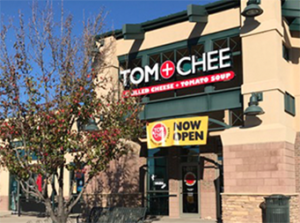 Building an effective marketing plan is one of the first jobs you need to tackle, because it'll help establish your restaurant as the new "it" place in your community. Good marketing powers word-of-mouth, too!
Pro tip: Be sure to build into your business plan a budget specifically for your Grand Opening. This money isn't an "expense." It's a critical investment in launching a successful grilled cheese company.
2. Building a Great Menu
People aren't coming to your restaurant just to look at a cute logo or read grilled cheese and grilled melt descriptions. Your menu needs to include a variety of options for cheese-lovers. This means sourcing quality ingredients from cheese distributors, bakeries, and food service companies. Be sure to test each recipe, as well, because that's half the fun.
However, always keep in mind two key goals. First, keep the menu simple enough for people to understand, which helps keep food costs down. Second, make sure you're choosing ingredients you know are always available from your suppliers because the last thing you want to tell a hungry customer is you're out of their favorite item.
3. Choosing the Right Equipment
When it comes to the kinds of equipment you need to start a grilled cheese company, you may think it's simple. But it may not be. You'll need commercial grills, toasters, ovens, and hot tables. You'll also need refrigerators in which to store product before use. Some grilled cheese and melt companies also serve pressed sandwiches, such as paninis.
Look at your menu and ask yourself how your staff will prepare the menu items you've just created. What tools will they need? The menu ultimately drives the kinds of equipment you need.
4. Finding the Ideal Location
A grilled cheese company falls into "fast casual" dining. Customers want to get in and out quick, but they also want a quality meal. For fast casual, location is everything. Look around your community and watch where people are congregating for food. Busy office parks and high-traffic shopping areas make great locations for fast casual dining.
At the same time, you want to avoid over-extending yourself on a lease that's too expensive. Working with a qualified real estate professional can give you some of the guidance you need to pick a great location.
5. Obtaining Necessary Permits and Licenses
Restaurants require occupational licenses, food service permits, and health inspections. To determine the kinds of permits and licenses your new sandwich & grilled cheese restaurant will require, you may consider reaching out to your local Chamber of Commerce. They love helping get new businesses off the ground.
6. Staffing Your Restaurant
Depending on the size of your operation, you'll need to hire staff to take orders at the register, prepare delicious grilled melts, and to serve the customers. Starting a sandwich & grilled cheese franchise does not require tons of employees, but you'll definitely want to hire a few key people.
Look at your market and try to estimate how many employees you'll need. Also, be sure to hire enough employees so that you won't run short on labor and get "in the weeds," as they say in the restaurant business. Finally, always remember your employees are the face of your business, so hire accordingly!
7. Throwing a Grand Opening Bash
With all the nuts and bolts in place, you're ready to throw a grand opening bash. The staff is trained, the menu is perfect, and now it's time to sell some grilled cheese and grilled melts! Consider touching base with your local municipality or the Chamber of Commerce, because these groups always want to celebrate new businesses! 
Start a Sandwich & Grilled Cheese Franchise with Tom & Chee and Skip the Hassle!
Jump to the head of the pack with the grilled cheese company to rule them all. Awesome brand? Check! Amazing menu? Check! Find out more about how you can start out ahead of the competition with Tom & Chee in our research pages. Or download our free Franchise Information Report, which walks you through the entire franchise process.