Owning a Soup Franchise: How to Take Your Menu to the Next Level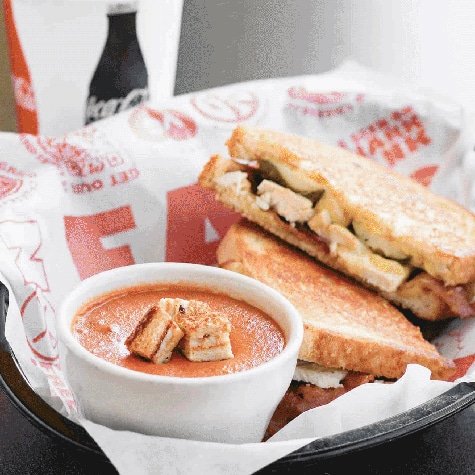 If you want to own a soup franchise, you must take certain steps to remain successful. Find out how to enhance your menu offerings and keep customers coming back.
TAKE STOCK IN SOUP
Soup has been a staple of the global diet for centuries, owed to its versatility and healthful properties. From summer gazpachos to hearty winter stews, there's a soup for every taste and season.
If you are considering purchasing a restaurant, take advantage of the year-round viability of a soup franchise and the versatility you will have to offer your customers with the right franchise brand.
LIQUID ASSETS
The sustainable popularity of soup can't be beat. It's comforting, familiar, healthy, and delicious. Diners will choose it time and again for its convenience and affordability. Seen as a nourishing comfort food, it is low-cost for restauranteurs because even when using the highest quality ingredients, soup provides a good yield.
In terms of QSR profitability, soup franchises provide a cost-effective foundation for restauranteurs to build a menu and a following around. With low food costs and high profit margins, soup attracts sales no matter the weather, particularly when paired with other delicious offerings.
Soup and salad franchises can attract a broad range of customers and serve a variety of preferences with low overhead. As the owner of such a restaurant, you stand a higher chance of satisfying all tastes and keeping customers coming back for more.
Soup-forward restaurants require less kitchen space, inventory, and staff than other restaurants, making the cost of buying and operating a Tom & Chee franchise affordable for both new owners and seasoned restauranteurs.
SOMETHING FOR EVERYONE
The popularity of soup is a good place to start, but for a franchise to enjoy lasting success, it's important to continue innovating and improving on the concept while offering customers more options than they could find at home or through competitors. Soup and salad franchises are especially popular because they give guests the opportunity to combine different flavors that can be enjoyed at any time of day.
Tom & Chee built its popularity around America's most nostalgic comfort food combo: tomato soup and grilled cheese. What started so simply has expanded into a menu based on innovative food offerings, including handcrafted salads, delicious melts, and mouthwatering indulgences, like our Famous Grilled Chee Donut. Tom & Chee has built upon the love for soup with a thoroughly modernized menu that offers something for everyone.
SOUP'S ON (AND THEN SOME)
Tom & Chee serves much more than soup—although our classic and creamy tomato soups are legendary. The Tom & Chee dining experience allows diners to elevate their comfort food meal for optimum deliciousness. The popularity of our soup franchise can't be denied. What started in a small tent outside an ice-skating rink in Cincinnati's Fountain Square in 2009 quickly expanded across the city, welcoming franchisees in 2012. In 2021, Tom & Chee was selected by Franchise Gator as one of the Top 100 Emerging Franchises for its financial stability, growth, transparency, continuity, and sustainability.
Tom & Chee is an outstanding opportunity for first-time business owners and experienced restauranteurs alike. The total cost to invest in a Tom & Chee franchise ranges from $302,700 to $456,000, which is well below other brands in the fast casual category. Cash liquidity and net worth required to invest are $125,000 and $300,000, respectively. Tom & Chee asks an ongoing royalty fee of 5 percent and a marketing fee of 1.5 percent.
As we seek new franchising partners, Tom & Chee continues to operate with the heart of a family-run business. All franchisees can anticipate comprehensive training, marketing support, and all-around access to resources and assistance from an expert team with over half a century of successful franchising experience.
Request information to learn more about starting your franchising journey with Tom & Chee.