Sandwich Franchises: What Our Members Love about Tom & Chee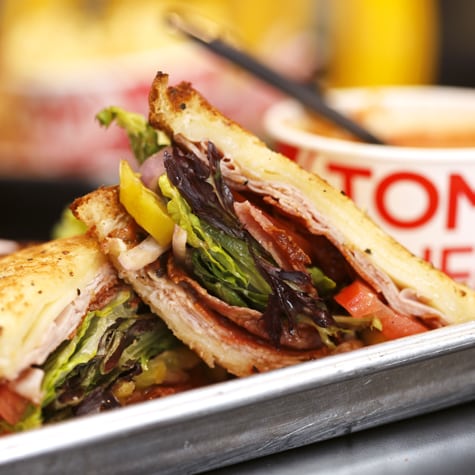 When it comes to owning a restaurant, what is the best cuisine to offer? Sandwiches are one of the most popular foods across the globe, and research conducted by the National Health and Nutrition Examination Survey reveals that 47% of adult U.S. diners prefer eating sandwiches on any type of occasion. The demand for sandwiches bypasses all categories and remains high despite changing trends or economic forecasts. A sandwich franchise like Tom & Chee provides owners the ability to cater to their customers' cravings while building a business with a classic, recession-resistant model.
Find out what's so enjoyable about owning a sandwich franchise.
POPULARITY & CONVENIENCE
Sandwich franchises like Tom & Chee benefit from sustainable popularity, as Forbes has noted.
Since sandwiches are such a staple of the American diet, your sandwich franchise will always be busy! You can enhance your success by staying on top of consumer trends, seasonal ingredients, and keeping restaurant costs low.
Sandwich shops offer a level of transparency that's hard to come by in the food industry. In today's world, buying a sandwich franchise is a great way to take advantage of this key trend. The customization possibilities are endless, which appeals to customers of any palette and price point.
LOW-COST POTENTIAL
Sandwich franchises can attract a broad range of customers and serve a variety of preferences with low overhead. As the owner of a sandwich shop, you stand a higher chance of satisfying all tastes and keeping them coming back for more.
Sandwich shops require less kitchen space, inventory, and staff than other restaurants, making the cost of buying and operating a Tom & Chee franchise affordable for both new restauranteurs and seasoned veterans.
AMERICA'S FAVORITE SANDWICH
Within the popular sandwich segment, the grilled cheese is king. As the nation's foremost grilled cheese franchise, Tom & Chee has based its menu off one of America's most iconic and beloved sandwiches and run with it. With a menu focused on handcrafted comfort food and creating memories, Tom & Chee can offer a uniquely enjoyable meal to diners while providing franchise owners with a winning business model that stands out in the crowded QSR market.
Customers know and love Tom & Chee for its reputation for excellence, community involvement, and delicious food. Franchise owners reap the benefits of this brand awareness the moment they open their doors.
THE BEST THING SINCE SLICED BREAD
Tom & Chee is proud to work with both new and seasoned entrepreneurs from different backgrounds in growing our sandwich franchise network. Each franchisee joins our brand with unique professional and personal experiences, but they are united in their passion and drive to share their love for our food with their communities.
Backed by experts in the field with over five decades of franchising experience, Tom & Chee is in the business of serving up delectable food while providing a winning platform for eager restauranteurs to realize their dreams. Our franchise testimonials and success stories speak for themselves: customers love the comfort and nostalgia our menu provides while franchise owners are able to grow their business within a supportive and winning environment.
Tom & Chee franchisees appreciate the ability prioritize a work/life balance while diving into the lucrative world of sandwiches with the backing of a brand that is truly invested in their success.
Tom & Chee rises above the competition not only for our crave-able menu offerings, but through the way we provide a winning formula for success with world-class training, marketing prowess, and ongoing support to our franchise family.
To learn more about opening your own Tom & Chee franchise, apply now.