Join Our Grilled Cheese Restaurant Chain: 5 Reasons to Apply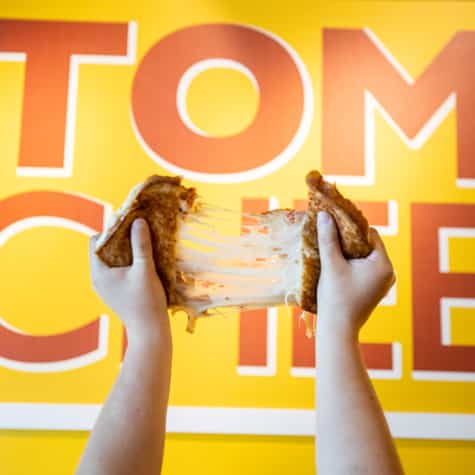 If you're interested in owning a grilled cheese restaurant chain, choose one that will be fun to work in every day. We have plenty to celebrate and invite you to learn about franchising with Tom & Chee.
FACTORS TO CONSIDER
Are melt sandwich shops profitable? Restaurants as a whole exhibit profit margins between 10 and 20% on average. There are a few factors that play into the success of a grilled cheese business.
Location matters. Site selection is a critical step in the development process. Things like, visibility, access, parking, co-tenants and more are all important when evaluating a potential site. Convenience is critical! If customers have a hard time getting to you, it can greatly impact your profitability.
Restaurant size makes a difference. If your restaurant is heavy in square footage, it can be more difficult to break-even, let alone make a profit. One of the top 3 things to impact a P&L is rent. Finding the right sized location will determine how much money you get to take home.
Think about the length of your menu. Too many menu options and you may overwhelm your customers as well as create complications back of house. You'll also have significant food costs. However, too few options may leave guests wanting more.
Find the ideal business partner. A grilled cheese franchise will already have all of the above panned out before you even sign! Franchisors have methods of locating the best spaces to put their restaurants and they've already created a winning menu.
So, which grilled cheese restaurant chain is the best?
WHY OUR GRILLED CHEESE FRANCHISE
We could probably name 100 reasons why Tom & Chee is your next best investment, but we'll stick to our top five.
NATIONAL BRAND RECOGNITION
Our grilled cheese restaurant chain has seen many successful televisions appearances on shows like Man vs. Food Nation, The Chew, Amazing Eats and Shark Tank. After these episodes aired, our original founders received over 25,000 franchise information requests. The buzz about our brand has been strong ever since – we still get an uptick in franchise requests after our Shark Tank episode airs in syndication.
NO PREVIOUS EXPERIENCE REQUIRED
You do not have to have previous restaurant experience in order to own one of our grilled cheese restaurant chain locations. Through our comprehensive training and support program, we will teach you everything you need to know about owning a Tom & Chee. While some previous management experience is beneficial, it's also not required of our franchisees.
BACKED BY GSR BRANDS
In 2017, Tom & Chee was acquired by QSR franchise veteran, Gold Star. From that point on, our franchisees have had direct access to industry professionals who have years of experience to fall back on. In fact, Gold Star got its start over Five decades ago. When they acquired our franchise, immediate change came after. We've since streamlined our operations, pared down our menu, and enhanced our training program. When you open a melt sandwich shop with us, you're backed by leaders in the industry.
STREAMLINED MENU
As we mentioned earlier, when Gold Star acquired our brand, one of the first things they did was refine our menu. Our idea is to stick to what it is we know and do best – melts, soups, and salads. Unlike our competitors who offer fries, pizza, pretzels, and more things that just aren't grilled cheese, we stick to our hand crafted melts. Not only does this allow for reasonable food costs, but guests also know exactly what we do. They come to us for America's favorite sandwich, the grilled cheese.
OUR CONCEPT IS DIFFERENT
Our grilled cheese restaurant chain stands out from the rest of the $23 billion sandwich industry. Our business model and product is different than what you may find throughout the crowded QSR industry. Not only do we serve delicious soups, salads, and melts (with vegan and vegetarian options), we pride ourselves on our customer service. Unlike many fast-casual restaurants, we take the time to bring the food directly to our customers. Sometimes, it's not what you serve, it's how you serve it.
TOM & CHEE: DOESN'T GET ANY CHEDDAR THAN THIS
If you're ready to get started with Tom & Chee, you can request more information by filling out this form, and one of our representatives will be in touch.