Sandwich Shop Marketing: 7 Ways to Attract More Customers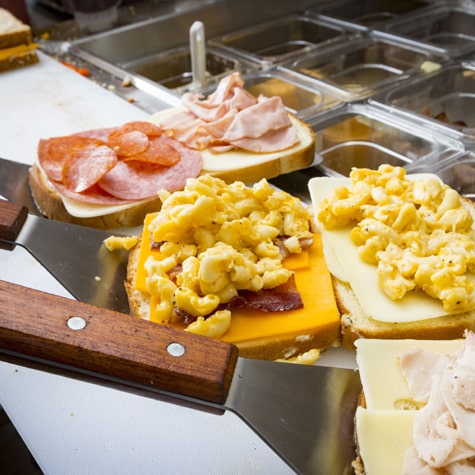 Finding new customers for your restaurant can be a struggle, no matter how delicious your concept. Here are seven ways to attract—and retain—new customers in 2021.
1. PARTNER WITH LOCAL BUSINESSES
Develop relationships with the other businesses around your sandwich shop. Offer their employees neighborhood discounts to entice them to visit your business regularly and spread the word to their own customers who ask about great dining options in the area.
2. OFFER A LOYALTY PROGRAM
One great way to keep customers coming back is to reward them with loyalty benefits, allowing them to accrue points or some other type of incentive to thank them for their continued support of your sandwich shop. These programs can be run directly from your business's website or through a handy digital app, making it fun and convenient for customers to track their rewards.
3. APPEAL TO CUSTOMERS ON A PERSONAL LEVEL
Consider the shops, restaurants, and other businesses that you like to frequent as a customer. It is likely that these places have become familiar haunts not just for their winning products but for their top-notch and consistent customer service.
It goes beyond a marketing technique. By training your staff to always provide smiling greetings and friendly service, you make a lasting impression on customers that will keep them coming back for more of a good thing, at a restaurant where they know to always expect a warm welcome.
4. COMMUNITY OUTREACH & PARTNERSHIPS
Folks tend to revisit businesses that prioritize a true commitment to the community, in addition to offering delicious food, particularly in times of crisis or need. Sandwich shops that view their communities as an extended family and act accordingly, whether through local toy drives, school fundraisers, or the like, can forge bonds with both existing and prospective customers by proving their promise of service.
5. APPEAL TO A CROWD
Now that the world is opening back up to larger gatherings, people are looking for ways to celebrate with a spread of delectable food options provided by a fun and trusted source. Offering catering resources expands your customer base and gives diners a meal they won't soon forget. Add a couple of special items to your catering menu, include some decorations, and help provide a memorable experience that will help grow your business.
Tom & Chee provides a range of catering options from boxed lunches to extensive platters heaped with our signature melts and sweet treats for parties and other get-togethers. You can be sure it will satisfy a full range of guests in any setting. Our catering coordinator will work with you directly to plan the perfect smorgasbord of delicious delights.
6. PROVIDE A DYNAMIC CONCEPT & MENU
Sandwich shops are a dime a dozen, so one essential way to attract and retain customers is by offering a menu of food choices they cannot find anywhere else. Tom & Chee was founded on one of America's favorite combinations: the classic grilled cheese and tomato soup.
Through that initial idea, our menu has developed over the years to include other savory melts, soups, and unique sweet offerings such as our signature Grilled Cheese Donut, which makes us stand out against every other sandwich franchise. Tom & Chee has really cornered the market in offering elevated comfort food with options for every palate.
7. PARTNER WITH A WINNING FRANCHISE
Tom & Chee knows a thing or two about marketing. What began in a small tent next to an ice-skating rink in Cincinnati's Fountain Square quickly but quietly grew to multiple stores in the Cincinnati market, and they began franchising. Tom & Chee has been featured on ABC's "Shark Tank," "The Chew," The Travel Channel's "Man vs. Food Nation", and "Amazing Eats." The "Today Show" named their Grilled Cheese Doughnut one of the "Best Sandwiches in America."
Tom & Chee provides its franchise owners with unparalleled marketing support, taking the guesswork out of the process by enlisting the expertise of a team of professionals whose sole job it is to see your sandwich shop succeed.
Through a multi-level process, Tom & Chee assists you in attracting customers to your new location, retaining repeat business, and drawing in new diners on a regular basis, all with the goal of keeping your shop humming with positivity and happiness.
To learn more about franchising opportunities with Tom & Chee, visit us today.