Melt Shop Franchise Cost vs. Competition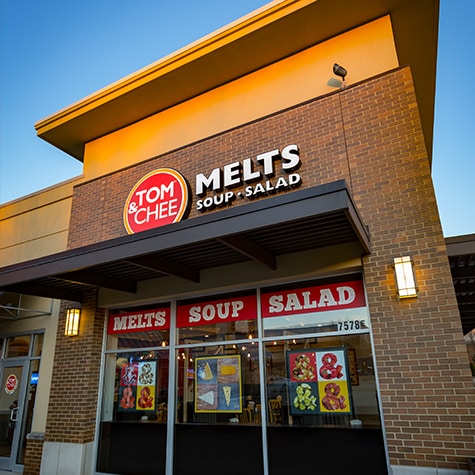 If you've been researching Melt Shop in your quest for the right restaurant franchise to buy, you may be wondering how the brand compares with competitors.
Let's take a look at the Melt Shop cost of entry and other aspects of the franchise, alongside a few competitors also known for grilled cheese sandwiches.
Melt Shop
Fast-casual comfort food concept Melt Shop was founded in 2011 in New York City and is known for its grilled cheese.
The initial investment to open a Melt Shop franchise is from $368,240 to $698,800, with a $35,000 franchise fee which covers the right to use the brand, signage, restaurant design, and cooking and operations manuals, and includes up-front training. Melt Shop charges franchise owners an ongoing 6 percent monthly royalty fee and 2 percent monthly advertising fee.
Franchisees benefit from standardized practices and operational systems, as well as employee training.
Tom & Chee
Known for its handcrafted melt sandwiches, soups, sweet treats, and more, Tom & Chee was founded and is based in Cincinnati. Focused on the micro-quisine of the grilled cheese and tomato soup meal, Tom & Chee takes a unique modern spin on the concept by offering numerous nuanced changes to every menu item, looking to bridge the warm familiarity of its staple items with the "my meal how I want it" desire of its customers.
Costs to get rolling with Tom & Chee range from $302,700 to $456,000. The franchise fee is $30,000. A franchisee must have a net worth of $300,000, with liquid capital of $125,000.
From a business opportunity vantage, Tom & Chee is now owned by GSR Brands, the owner of Gold Star Chili, too. GSR Brands 50+ years of restaurant and franchise experience makes the young Tom & Chee franchise a mouth watering opportunity for any prospective business owner looking for a strong business design and a known history of franchise support and logistics.
It's also fun to remember that Tom & Chee was featured on the television series Shark Tank where it was invested in by Barbara Corcoran, who, to this day, continues as an owner.
Low cost of entry and a straightforward business model with exceptional support make owning a Tom & Chee a smart choice of grilled cheese sandwich franchise.
Culver's
Based in Wisconsin, Culver's touts its handcrafted, fresh, menu items, such as its signature ButterBurger, as well as frozen custard.
The initial total investment can range from $2,349,000 to $5,356,00. Each new Culver's franchisee pays an individual franchise fee of $55,000 to acquire a Culver's franchise for the basic 15-year term of the franchise agreement and may qualify to renew for an additional 10 years for an individual franchise fee of $30,000.
The franchisee must have at least $350,000 in liquid assets to qualify. If the owner prefers to own the real estate, building, and equipment, they must have $600,000 in liquid assets.
Culver's requires the franchise owner to pay a monthly royalty fee that is 4 percent of gross sales. New franchisees contribute 2.5 percent of gross sales each month toward advertising and must spend at least 1 percent of gross sales every year on local ads and promotions.
The Melt
Another comfort food purveyor is The Melt. Its menu is highlighted by indulgent melted sandwiches at seven locations in California. Like at other brands on this list, grilled cheese takes center stage.
For now, The Melt brand has paused growth plans because of the COVID-19 pandemic's effects on the business climate, and franchises are not yet available.
American Grilled Cheese Kitchen
Another comfort food concept, The American Grilled Cheese Kitchen, uses artisan-quality, carefully sourced ingredients in grilled cheese sandwiches and other dishes.
Only franchising since 2017, TAGCK says it offers robust support for franchisees, whose initial investment will range from $275,000 to $650,000, with a franchise fee of $35,000 and an ongoing royalty fee of 6 percent.
For more information about Tom & Chee franchising, visit tcfran.hyperdrivei.com.