Why Owning a Tom & Chee Franchise is a Best-bet Investment
The thriving melt franchise has incredible brand recognition and offers a simple business model that's easy to scale
With 2020 just around the corner, it's the perfect time for entrepreneurs to seek out a business opportunity that offers the ability to help them realize their full potential. Entrepreneurs would be wise to consider owning a melt franchise in the sandwich industry, which has earned $25 billion in 2019 thus far, according to IBISWorld. The industry has been able to thrive over the past five years and is expected to grow at nearly 4% annually, notes the market research report.
For starters, 79 percent of Americans say their favorite sandwich is grilled cheese, according to YouGov, and a great grilled cheese is hard to find! At Tom & Chee, that's our bread and butter. With our creative takes on grilled cheese sandwiches, home made tomato soups and hand tossed salads, we have garnered incredible brand recognition by providing a highly differentiated product offering.
"Our food was founded on the idea of connecting with people and creating memories," says Jenny Rachford, Co-Founder and Franchise Development Coordinator with Tom & Chee. "Everything begins with the food: the handcrafted melts, homemade soups and salads. The food industry is crowded and competitive — you have to have amazing food to succeed. What really leads to the success at Tom & Chee is the guest experience, from every smiling face that they see, to the cheerful environment that surrounds them, and of course, the food. That's what inspires our guests to not just come back, but to come back with their friends and family."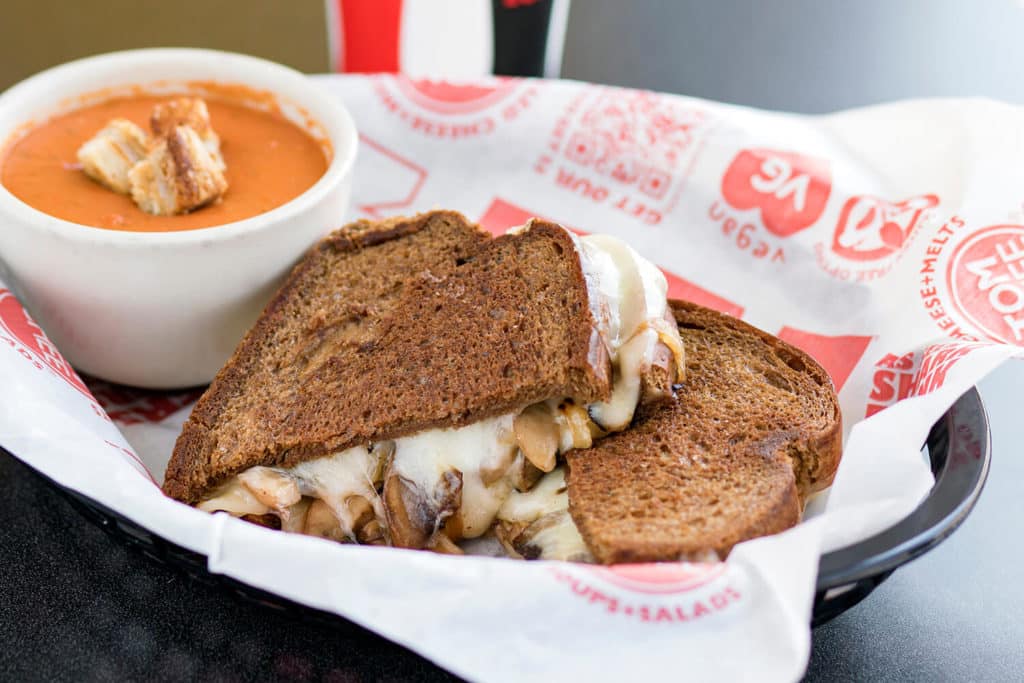 Take America's Favorite Sandwich to New Heights
Backed by GSR Brands, a family-owned franchise business with more than 50 years of experience helping franchisees thrive in the restaurant business, Tom & Chee is ready for explosive national growth for years to come.
We are committed to delivering an unmatched customer experience and are passionate about helping our franchise owners thrive in business. This is why we offer a simple business model, refined menu, streamlined operations and a new restaurant design to provide an exciting customer experience and smaller footprint in an effort to reduce rent costs. Whether you have industry experience or not, or perhaps you're looking for a career change, our leadership team provides a state-of-the-art training platform and ongoing support to help you thrive long-term.
"We're in business to help our franchisees succeed because when they succeed, we all succeed," says Roger David, President and CEO of Tom & Chee. "I can't wait to welcome new entrepreneurs to our franchise family as we continue to grow going forward."
READY TO BRING THE ONE-OF-A-KIND MELT FRANCHISE TO YOUR COMMUNITY?
Don't let this franchise opportunity melt away. Join the $23 billion sandwich industry by becoming a Tom & Chee franchise owner. The total cost to invest in a Tom & Chee franchise begins around $302,700, with an initial franchise fee of $30,000 for the first location. GSR Brands consists of more than 50 years of experience, and they are ready to help you prosper. Due to the high level of training and support, Tom & Chee doesn't require you to have restaurant experience, only a passion for food and service.
For in-depth details about the Tom & Chee franchise opportunity, request a copy of our free franchise report. You also can learn more by visiting our research pages.