How to Start a Sandwich Business that Delivers Profits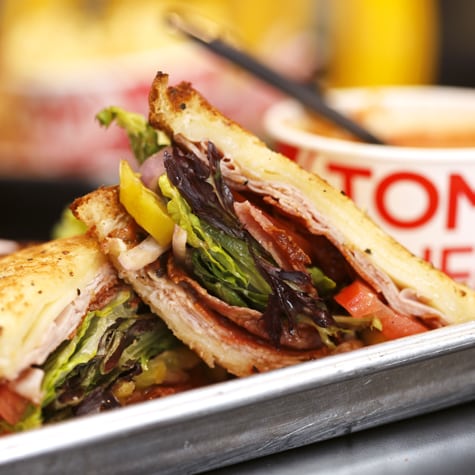 If you dream of opening a sandwich business, financial success is likely a top priority. Here are some things to bear in mind to help you get started on the right track.
MAKE A PLAN
Whether you intend to open an independent business or buy a franchise, a clear and informed business plan will lay out your mission and objectives to help you stay on goal.
Several unique factors contribute to the success of a sandwich business, including the location, market position, menu selection, and atmosphere. A high-frequency grab-and-go sub shop located in a commuter-centric area will have different requirements than a grilled cheese sandwich franchise positioned in a neighborhood where families can come to enjoy more of a nostalgic experience. The success of a sandwich shop is dictated by these factors, and how you plan to address them.
Your business plan should describe your business, the service or product it provides, the target market it serves, initial marketing plan and initial financial requirements plus objectives. Your plan should also highlight your mission. If your mission is to bring the best quality Mediterranean sandwich wraps to an urban community of young professionals at a reasonable price, you must be able to outline precisely how you intend on meeting that goal.
A major key to your success will lie in your ability to execute your plan. So be realistic and do the research. The more you know about what you need in terms of financial support, employees, products, marketing, and location, the better positioned you will be to start strong and steadily grow your business.
KNOW YOUR NICHE
It is estimated that Americans eat around 300 million sandwiches every day! We love our sandwiches so much we even have a national holiday dedicated to them. There's no doubt that the sandwich business can be profitable, but in order to attract customers and keep them coming back for more, it's important to offer a unique product, unlike anything they can find anywhere else.
By limiting the scope of your concept within a wider market, you will have greater control over your business. For instance, a business with 115 sandwiches on the menu that all require unique ingredients will undoubtably lead to unnecessary food waste and an unbalance inventory budget.
Beyond budgetary considerations, a sandwich business that offers a focused and specialized menu appeals to customers who seek something more unique than the typical fare. Undeniable comfort food that appeals to customers from all walks of life is the ideal menu item to focus a business around. Take the grilled cheese sandwich for example which has are historically ranked as the most popular sandwich in America.
FIND YOUR SPOT
The market positioning for a sandwich business can range substantially depending on the nature of the product and how it's promoted. If you intend to open a fast-casual sandwich concept targeting the premium end of the market, your business would ideally be positioned in a location amidst a combination of residential and commercial properties, near high-traffic retail locations like shopping centers and entertainment venues.
One of the benefits of investing in a franchise like Tom & Chee is the input of a highly trained support team who will do a lot of the legwork with you, conducting demographic research to identify the best location for your business and inform future marketing efforts.
REACH YOUR CUSTOMERS
The marketing strategies for your sandwich business will depend upon the nature of your concept and location. Some shops may be entirely supported by foot traffic, such as those located within airports or business parks. These types of businesses may benefit from a combination of public relations and customer discounts, attracting new visits through coupons and the like.
Other concepts do well to utilize more of a multifaceted approach, utilizing more sophisticated methods of generating and drumming up business. Unfortunately for many independent sandwich business owners, this level of marketing can be expensive and time-consuming. But for franchise owners, it is one of the greatest advantages to invest in an established brand.
Tom & Chee is thrilled to provide sandwich business owners with the backing of over ten years of franchising experience. With well-established brand awareness and customer loyalty, your restaurant will be miles ahead of the competition before you even open your doors.
Our team of experts work with new and existing franchisees to optimize every opportunity available and ensure success through opening day and beyond. Through press releases, digital marketing, community outreach, and more, Tom & Chee offers unparalleled and dynamic support to help franchisees optimize their business.
Tom & Chee is proud to be a standout concept in the $23 billion sandwich industry. Our commitment to serving delicious comfort food in a family-friendly atmosphere attracts franchisees who are equally passionate about food and community. If you would like to learn more about franchising opportunities with Tom & Chee, visit us.