Own a Salad Franchise | Tom & Chee Opportunities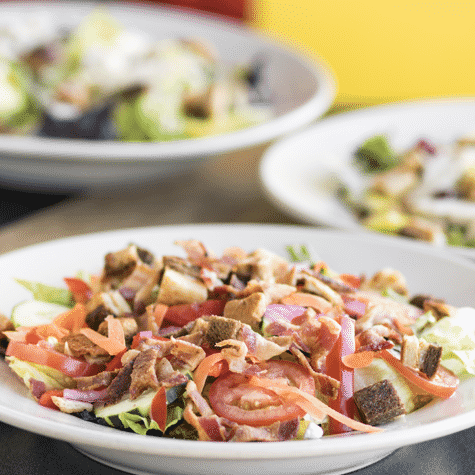 If you have your mind set on buying a franchise, don't miss out on the opportunities afforded to you by Tom & Chee, a brand that specializes in comfort food that caters to customers' tastes in a healthy and heartfelt way.
NOW IS THE TIME
Now more than ever, Americans are actively seeking healthy dining options that enhance their lifestyles. Franchises that provide convenience, affordability, and remarkable flavor are rushing to the head of the line for customers and investors alike.
More and more, diners are opting for salads for lunch and dinner, providing investors a range of opportunities to get in on the trend and make it their own.
DECISIVE DINING
Diners like options. Whether they enter a restaurant with a mind to eat a salad, sandwich, or full-blown smorgasbord, they like knowing that the menu offerings provided by any given establishment will let them pick and choose items that best fit their tastes and lifestyles. Restaurants that appeal only to specific tastes or meal choices limit the opportunities to provide sustenance for a broader range of customers.
Any restaurant that limits its offerings to one specific category is missing out on a wealth of crossover, repeat, and sustainable customer service opportunities. Since its humble opening as a Cincinnati popup in 2009, Tom & Chee has been serving delicious grilled cheese sandwiches that translated into a nationwide craving.
Tom & Chee got its start with America's favorite sandwich but wasn't satisfied there. Providing customers with a full range of foodie delights was the goal when Tom & Chee decided to offer hand-crafted salads in addition to their already crave-worthy menu of sandwiches and treats.
Falling into the trap of offering one specific food item is a problem many restaurateurs face, but Tom & Chee provides a solution by showcasing sandwiches, salads, soups, and more that the whole family can appreciate.
Since then, the brand has learned to grow and adapt to its customers' wants: standing as an all-inclusive restaurant to suit a broad range of tastes.
SALAD WITH A SIDE OF AWESOME
Most salad franchises put their focus on the ingredients, and rightfully so. But when a restaurant's only endeavor is salads, they miss out on the plethora of opportunities that their home-grown ingredients can fully provide. Tom & Chee sets its menu to highlight the best produce and ingredients, giving franchisees the opportunity to offer the most delicious meals to customers, no matter their preferences.
Tom & Chee offers a range of options to both customers and franchisees. From the Grilled Garden Cheese to Green Goat salads, the Tom & Chee menu appeals to all appetites.
When it comes to franchising, Tom & Chee provides a full range of support that you won't get from other brands. Tom & Chee decided to expand its range of offerings not only for the customers but also for the owners serving our brand.
Tom & Chee is proud to stand out in a $23 billion industry that vastly retains one focus. We have opened our doors to providing more dining options for customers and allowing more growth opportunities for franchisees in a burgeoning family-friendly restaurant environment.
Tom & Chee is happy to be the spot for folks to find the freshest, most delicious food in a changing world.
If you would like to learn more about franchising opportunities with Tom & Chee, please visit us.