3 Reasons to Invest in a Tom & Chee Franchise in 2020
The thriving sandwich franchise is a best-bet investment for entrepreneurs seeking an easy-to-scale, well-supported franchise with a focus on franchisee unit economics
There's a lot of noise out there when it comes to choosing the right franchise opportunity. Whether you're looking to add to your portfolio or dive full force into running your own restaurant, a franchise opportunity can give entrepreneurs a massive head start in 2020. Most importantly, it doesn't have to cost millions of dollars to make it happen.
Entrepreneurs who are serious about opening a sandwich franchise next year would do well to consider Tom & Chee. Owning a franchise in the sandwich category can have enormous profit-potential. In 2019, the sandwich industry has earned $25 billion, according to IBISWorld.
Tom & Chee has received tremendous national brand recognition from appearances on Shark Tank, spurring our growth to more than 12 locations across seven states. Today, we are poised for a new era of rapid growth with not only exceptional support from GSR Brand's 50-plus years of experience, but also an innovative playful menu unlike anything else in the sandwich industry.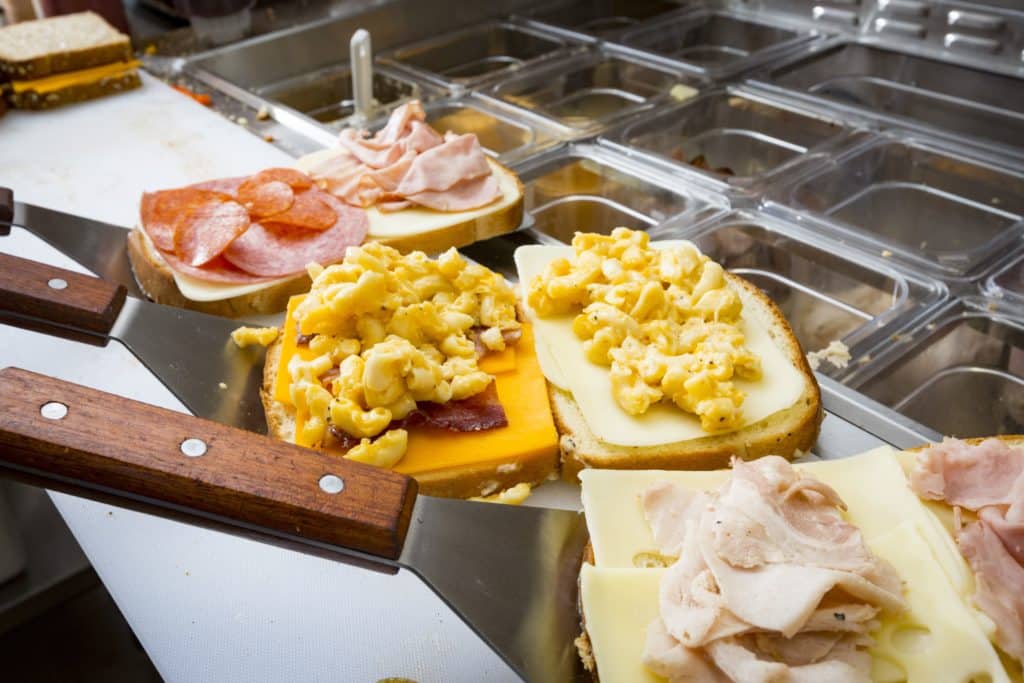 Here are three reasons to invest in a Tom & Chee franchise in 2020:
Tom & Chee is a low-cost investment that's easy to scale
Tom & Chee is far more affordable than other franchise concepts in the sandwich industry and is a low-cost investment opportunity with tremendous profit potential. Our total investment of beginning operations start around $302,700 with an initial franchise fee of $30,000 for the first location. With 2020 just around the corner, Tom & Chee is the perfect opportunity for entrepreneurs. 
Take America's Favorite Sandwich to New Heights
A great grilled cheese sandwich is hard to find — even though 79 percent of Americans say their favorite sandwich is grilled cheese, according to YouGov. At Tom & Chee, that's our bread and butter. We go above and beyond our competitors with our handcrafted melts. Since our founding in 2009, Tom & Chee has created one of the most innovative, adventurous and crowd-pleasing menus in the QSR industry. Whether it's our Grilled Cheese Donut, Crunchy Garlic Chicken, Flying Pig – and much more – there's simply nothing like Tom & Chee in the sandwich category.
Standout in the $25 billion sandwich industry
Tom & Chee has garnered incredible brand recognition by providing a highly differentiated product offering with a creative twist on grilled cheeses and melt sandwiches, tomato soups and salads. We are ready to bring on passionate franchisees who want to utilize state-of-the-art training and support over the long-term to ensure longevity, as well as own a simplified business model that brings joy and love to their communities.
READY TO BRING THE ONE-OF-A-KIND MELT FRANCHISE TO YOUR COMMUNITY?
Don't let this franchise opportunity melt away. Join the $23 billion sandwich industry by becoming a Tom & Chee franchise owner. The total cost to invest in a Tom & Chee franchise begins around $302,700, with an initial franchise fee of $30,000 for the first location. GSR Brands consists of more than 50 years of experience, and they are ready to help you prosper. Due to the high level of training and support, Tom & Chee doesn't require you to have restaurant experience, only a passion for food and service.
For in-depth details about the Tom & Chee franchise opportunity, request a copy of our free franchise report. You also can learn more by visiting our research pages.