Tom & Chee Franchise Special Report: Why is Grilled Cheese so Perfect?
Rising QSR franchise is committed to taking America's favorite sandwich to places it's never gone before
What's America's favorite sandwich? If you're thinking peanut butter & jelly, an Italian footlong, a BLT, or a meatball sub, you're not even in the ballpark. The real answer, according to Today on CBS, is the Grilled Cheese.
And it's not even close.
According to a recent survey compiled by YouGov, 79% of Americans say that the grilled cheese is their favorite sandwich.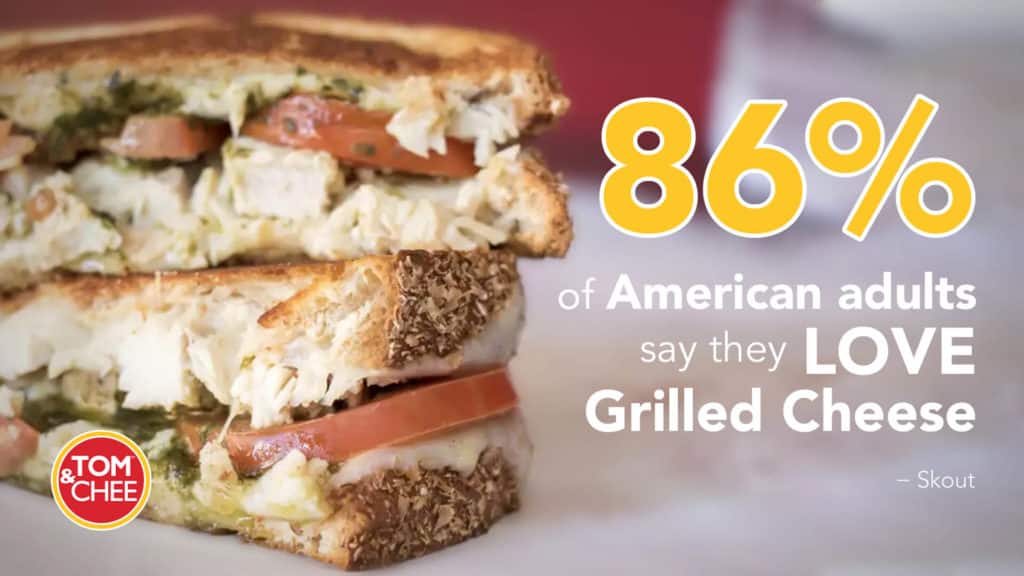 It's easy to see why. Almost all of us have fond memories of a loved one making a grilled cheese for us on a winter day, usually served with a bowl of tomato soup. The simple combination of toasted bread, a little butter and melted cheese can catapult us back to our childhoods with just one bite.
Now, the real question is simple:
Do You Want to Own a Business That Serves America's Favorite Sandwich?
Tom & Chee was founded in 2009, during the annual winter holiday event in downtown Cincinnati, Ohio — and can you guess what we served? Grilled cheese sandwiches and tomato soup. Soon the demand for our sandwiches was so high that we opened our first storefront location, and then another, and soon after that, millions became familiar with our brand on the hit show Shark Tank.
But the real reason why our brand is so beloved across the nation is because grilled cheese sandwiches are hard to find — even though it's America's favorite sandwich!
10 years later, Tom & Chee has taken this humble sandwich to another level. Our Grilled Mac & Chee features cheddar, mozzarella, homemade mac and cheese, and applewood smoked bacon grilled on white bread. And we don't stop at the grilled cheese. We also offer an array of culinary crafted melts, including our own unique spin on beloved sandwiches such as the Philly cheesesteak, the Cuban, and Cincinnati's own Westsider. Tom & Chee also serves fresh made-to-order salads and homemade soups, because what goes better with a grilled cheese?
"Our food was founded on the idea of connecting with people and creating memories," says Jenny Rachford, Co-Founder and Franchise Development Coordinator with Tom & Chee. "Everything begins with the food: the handcrafted melts, homemade soups and salads. The food industry is crowded and competitive — you have to have amazing food to succeed. What really leads to the success at Tom & Chee is the guest experience, from every smiling face that they see, to the cheerful environment that surrounds them, and of course, the food. That's what inspires our guests to not just come back, but to come back with their friends and family."
Ready to bring the one-of-a-kind melt franchise to your community?
Don't let this franchise opportunity melt away. Join the $23 billion sandwich industry by becoming a Tom & Chee franchise owner. The total cost to invest in a Tom & Chee franchise begins around $302,700, with an initial franchise fee of $30,000 for the first location. GSR Brands consists of more than 50 years of experience, and they are ready to help you prosper. Due to the high level of training and support, Tom & Chee doesn't require you to have restaurant experience, only a passion for food and service.
For in-depth details about the Tom & Chee franchise opportunity, request a copy of our free franchise report. You also can learn more by visiting our research pages.