FastCasual.com: Tom + Chee parent company shakes up leadership team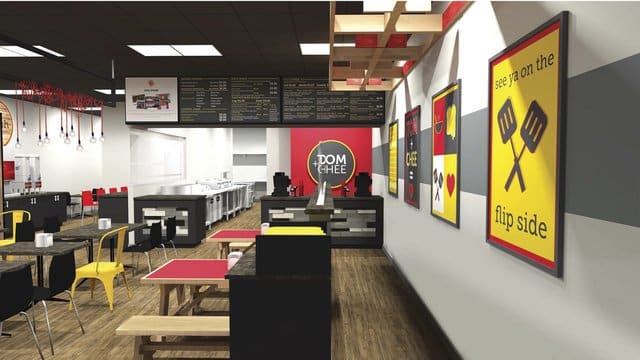 GSR Brands, parent brand of Gold Star Chili and Tom & Chee, has made several changes to its leadership team in hopes of growing both brands, according to a company press release.
The Cincinnati-based company has come a long way since its founding, in 1965, by four brothers who purchased a single hamburger restaurant serving Cincinnati-style chili. The brand now has more than 75 units, and in 2017, added to to its profile by purchasing Tom & Chee, a 12-unit fast casual brand specializing in grilled cheese sandwiches. This year, the team created GSR Brands to oversee both brands.
"Gold Star has successfully operated and expanded the business started by my father and uncles over the last 50 years," GSR Brands President and CEO Roger David said in the release. "Over the last few years, we've invested more than $25 million into the evolution of the Gold Star brand in order to drive continued growth, sales and success throughout the organization."
In order to continue growth, David said it was necessary to make a series of strategic hires and reorganize the corporate structure.
Promotions within GSR Brands include:
Samir Daoud has been =promoted to CFE and franchise development director. He started at Gold Star as a franchisee and is now responsible for attracting new franchisees for both brands, prospecting and qualifying new and existing franchisees, onboarding and leveraging CRM systems to track their progress. He also manages current franchisees and their agreements with the brand, lease negotiations on behalf of franchisees, restaurant operations and developing customer relationships with franchisees and assisting with exist strategies when needed.
Jamie Pollard, is now field marketing manager. She started her career at Gold Star as a server while working her way to a college degree. She now leads a team dedicated to ensuring the success of franchises owner by developing and managing all activities for Gold Star and Tom & Chee locations, as well as brand marketing and communications.
Her work includes overseeing internal and external teams developing brand strategy, creative and tactics to drive sales in marketing, advertising, public relations and social media. She supports each of Gold Star's and Tom & Chee's 90-plus locations with local store marketing initiatives aimed at raising awareness around store openings, as well as ongoing marketing support for franchisees.
Tyler Kraemer is now director of training. He brings more than 20 years of industry knowledge to the GSR Brands family thanks to his experience in fast casual restaurant operations. From marketing to training, his experience has taken him from single unit operations to managing and directing operations for multi-million dollar brands.
Kraemer has spent five years working for Tom & Chee and Gold Star, working in operations and training roles before his promotion.
Anoshka Whitaker is district manager of company stores and has more than 20 years of experience. She started her career in Gold Star franchises owned by her father and uncles, eventually becoming a general manager at a company store before her promotion. Anoshka oversees operations in restaurants and leads the general managers to deliver on GSR's service promise to make Gold Star guests feel like family.
New hires include:
Jessica George, vice president of marketing: After almost 20 years building brand strategy, marketing and strategic communications plans for companies of all sizes, George joined GSR Brands to oversee the team planning, developing and executing all marketing and communications initiatives across its portfolio of companies in order to hit and exceed critical business objectives.
Prior to joining GSR Brands, George held c-suite and senior leadership roles at marketing agencies where she was charged with agency strategy and operations, led strategy for clients, and built a word-of-mouth marketing line of business from the ground up. She has worked with Long John Silver's, Wendy's, Papa John's, Red Robin and T. Marzetti.
Lynn Johnson, HR director: Johnson leads all human resources activities and serves as strategic business partner to the GSR Brands team, working to shape and drive the business strategy across all departments for both brands. Prior to joining the Gold Star family, Lynn served as a senior HR consultant for Management Performance, working with Carter's/Osh Kosh and Koch Foods.
Brandie Ray, field training manager: After more than 18 years managing restaurants and training employees across franchises, Brandie joined Gold Star to lead new restaurant and remodel restaurant trainings for employees. She also creates and manages content for GSR Brands' partnership with Playerlync, GSR Brands' digital training platform, to ensure uniformity of training across company-owned and franchise locations.