Celebrate National Grilled Cheese Month with Tom & Chee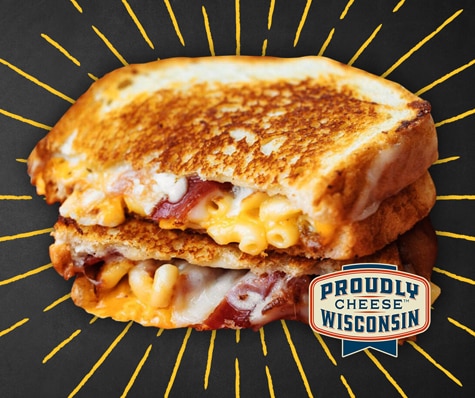 Purchase three elevated, handcrafted melts in April and receive your fourth one free!
Cincinnati – Tom & Chee, famous for its melts, soups, salads and grilled cheese donuts, is celebrating April with America's favorite food in a way only Tom & Chee can do: By giving guests a complimentary melt with the purchase of three melts throughout National Grilled Cheese Month at all participating locations. Now through April 30, guests will receive a "Melt Passport" punch card and for every melt purchased via dine-in or carry-out, they'll receive a punch on their card (one per person per visit). Once three punches are collected, the next gooey melt is on the house!
Cheese is not just a staple at Tom & Chee, it's history! With origins dating back as far as the Roman Empire based on ancient cookbooks, the grilled cheese sandwich became a phenomenon in America in the early 20th century out of necessity. After James L. Kraft patented processed cheese in the mid 1910s, the Great Depression prompted many to find a meal that was fit for both their palates and their budgets – making the grilled cheese sandwich a staple of many American households. Tom & Chee elevates the standard grilled cheese to the next level with mouth-watering ingredients and flavor combinations – all of which are bolstered by the premiere goods produced by dedicated farmers at the Dairy Farmers of Wisconsin.
"National Grilled Cheese Month is our favorite month, and one we always look forward to celebrating as a company with our fans," said Roger David, president and CEO of Tom & Chee. "Typically, we celebrate National Grilled Cheese Day, but this year we wanted to make the celebration even better, so we're spreading the ooey-gooey love all month long."
John Gerth, owner of several Cincinnati-area Tom & Chee restaurants, agrees.
"This year, Tom & Chee is excited to be back in person to celebrate but also via carry out and delivery," said Gerth. "There are so many delicious hand-crafted melts to choose from. My personal favorite is the West of Philly, which includes mozzarella, slow-roasted beef, sautéed mushrooms, onions, peppers and fantastic garlic aioli all on hearty white bread. The best news? It's available at all Greater Cincinnati Tom & Chee locations."
Other local favorites include the Chicken Bacon Ranch Melt with mild cheddar, applewood-smoked bacon, hand-carved chicken, Roma tomatoes and ranch on wheat berry bread; as well as the Grilled Mac & Chee with mild cheddar and mozzarella cheeses, our homemade mac & cheese and applewood-smoked bacon all on hearty white bread.
There are four participating Tom & Chee locations in the Greater Cincinnati area:
The Original Tom & Chee – Downtown Cincinnati, 125 E. Court Street, Cincinnati, OH 45202
Newport – 1 Levee Way Newport, KY 41071
West Chester – 9328 Union Centre Blvd., West Chester, OH 45069
Anderson Towne Center – 7578 Beechmont Ave., Cincinnati OH 45255
Tom & Chee currently has 7 locations across the Midwest and South, with plans to open a new location in Oklahoma City in 2021. For more information, visit www.tomandchee.com or connect with us social media via Facebook at www.facebook.com/4TomAndChee/ or Twitter at @TomAndChee.
Download images of Tom & Chee melts and promotional images by visiting: https://drive.google.com/drive/folders/1EznDw7aoxeL3QJaBrBFaT3iwfaxl8Xpf?usp=sharing
# # #
About Tom & Chee
Tom & Chee is an innovative restaurant chain that offers a unique menu based off of the classic meal, Grilled Cheese and Tomato Soup. What began in a small tent next to an ice-skating rink in Cincinnati's Fountain Square quickly but quietly grew to multiple stores in the Cincinnati market, and they began franchising. Tom & Chee has been featured on ABC's Shark Tank, The Chew, The Travel Channel's Man vs. Food Nation, Amazing Eats. The Today Show named their Grilled Cheese Doughnut one of the "Best Sandwiches in America." For more information, visit www.tomandchee.com.