Roger David named CEO Communicator of the Year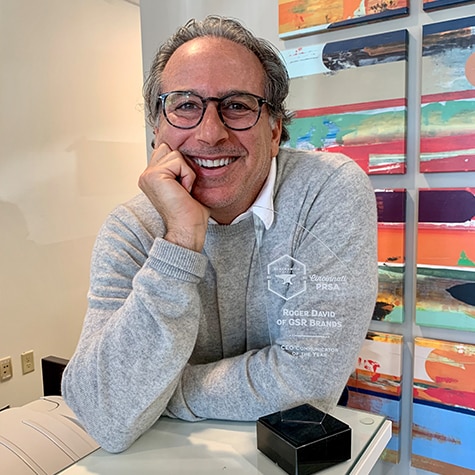 Roger David, president and CEO of GSR Brands – the parent organization of Gold Star and Tom & Chee, was named CEO Communicator of the year at the 2020 Cincinnati PRSA Blacksmith Awards Ceremony. This annual celebration for Greater Cincinnati's public relations professionals celebrates the exceptional achievements in communications.
The CEO Communicator of the Year Award honors the outstanding performance of Cincinnati-area chief executive officers in their roles as chief communicator. The role of the CEO has evolved. Not only do CEOs encourage and adapt to changing business models, but frequently the CEO must also take the lead in communicating with employees, shareholders, customers, suppliers, and other stakeholders to achieve success for his/her organization. PRSA Cincinnati recognized Roger David as a CEO who has shown outstanding use of communications tools within his organization, to both internal and external audiences.
Roger, who started out as a dishwasher for his family's chili restaurant when he was a teenager, returned to the family business in 2015 with a mission to drive the organization forward for the next 55 years. At the heart of his vision is to treat everyone – franchise owners, employees, restaurant guests and the community as a whole – like they're part of the extended family that founded Gold Star 55 years ago.
Under his leadership, Gold Star has completed strategic updates to all areas of business to drive success and growth for the next 55 years and beyond. A $25 million investment translated into a new restaurant look, menu and guest experience for 75+ locations throughout the region. In 2019, he launched a similar effort for Tom & Chee to right-size the footprint of future stores; refine and elevate menus, branding and store design; and more. Since his tenure began, GSR Brands' growth is up 23%. Through it all, Roger knows that communication with customers, franchisees and employees is integral to bringing his vision to life to ensure successful execution.
At the onset of the pandemic, Roger knew the unknowns, fear and mandatory stay-at-home orders across the region had the potential to devastate GSR Brands, leaving small business franchise owners in a tough spot. He believed the best way to ensure the safety of staff and guests, and the success of the business, was through consistent, clear communication.
When it became clear that it was a matter of when – not if – the pandemic would hit our community, he immediately got to work with his leadership team planning for numerous organizational scenarios. In early March 2020, he began a series of clear, direct communications to franchise owners and managers to educate them on safely operating their businesses as the crisis dragged on.
At the outset, Roger communicated his overprotectiveness toward his extended family – which includes franchise owners and team members of GSR Brands and the guests they serve. He set the tone for what he expected employees to do to keep themselves, each other and customers safe. He also lends his experience and knowledge to the Cincinnati Regional Business Committee, including their RESTART Task Force dedicated to guiding the business community's work in response to COVID-19.
There was no room for doubt about how seriously Roger took (and continues to take) the crisis. He sent notes thanking team members, along with free face coverings for every front-line worker before they were mandated by state governments. He talked directly to and with guests about how overprotective he is when it comes to keeping them safe and well-fed. He and his team shared changes and resources with franchise owners, staying in constant communication so they knew what was required and needed – both from the company and the local and state governments for their restaurants.
Even knowing it may be met with customer backlash, after the death of George Floyd, he led the way in communicating Gold Star's unwavering support of the community's fight for equality, sharing powerful public letters explaining why.
These are just some of the examples of how Roger used effective communication to set a vision and a strategy for GSR Brands. Congratulations, Roger!