Sandwich Shop for Sale: 10 Questions to Ask Before Investing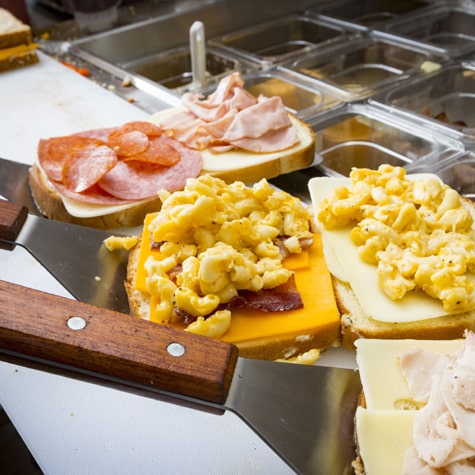 Starting a sandwich shop from scratch is the dream of many with experience in the industry. But it is an uphill path, to be sure, and for obvious reasons.
That's why many entrepreneurs, including those with no experience but interested in an investment, choose to buy an existing sandwich shop.
You could be purchasing a well-oiled machine that's ready for even more improvement. As the new owner, you'll take the baton of good brand recognition and an existing customer base.
Or, if you're not careful, you might wind up the owner of a money pit on its way out of business.
Maybe you might find a shop that's somewhere in between—a promising concept that just needs new leadership to get out of a rut and really shine.
When looking at sandwich shops for sale, here are 10 things to check into before investing.
1. Why Are They Selling?
Not all reasons for sale are the same: some operators sell a sandwich shop when it's going strong to get the best price they can. Others may realize that their ship is sinking, and are trying to jump off before it gets any lower. There's a good chance that both will try to highlight the positives and minimize the negatives of their proposition.
So be sure to look into the history of the restaurant, its reputation, and its finances. While there are plenty of ways to right a financially sinking ship, fighting off a bad reputation can be perilous and needs to be considered before chosen as the battle you may want to face. It might even be worth considering buying the business itself and relaunching it with a new name and theme.
2. Examine the Financials
Try to get as accurate an understanding as you can of the profit and loss statement. Find out what metrics go into running the business. You'll need this information not just for your own understanding but to include in your business plan when you seek financing.
Request profit and loss statements, balance sheets, tax returns, and bank records. Look at food costs, labor costs, sales, rent costs, utility costs, insurance costs, and more.
Are there any outstanding debts you'll be asked to assume? How much are they? Have there been any recasting or normalizing of the statements based on new ownership and operations?
3. What is the Cost?
When it comes to restaurant options, a sandwich shop should be a relatively low investment level. In addition to the ongoing business costs discussed above, what is the initial investment to buy the business?
And are you buying just the business assets, or are you buying the full, entity or stock? Be sure you know not only what the dollar amount is, but what that dollar amount covers completely.
4. Equipment and Fixtures
What equipment assets are included in the sale? What condition are they in? How much does maintenance cost over the course of a year?
If you don't find out what's included on the front end, you may be surprised to show up after the purchase to find an empty kitchen.
Ask if the owner has records of service, paperwork from the purchase of items, and anything else. Have a professional inspect all equipment and offer an opinion on what may need big-ticket repairs in the near future. What is the "health" of the gear?
Fixtures include anything that is affixed to the interior of the shop, such as lighting, counters, and built-in equipment or vent systems. Make very clear which equipment and fixtures belong to the seller and which actually belong to the landlord of the building.
5. Current Inventory
If you plan to continue operating the current concept, find out what inventory comes with the purchase. This may include food products as well as flatware, napkins, serveware — anything.
6. Management and Employees
Ask the owner for candid information about who the best team players are, and which ones may be interested in staying on.
Especially if you plan to seamlessly keep the same sandwich shop running, their experience and comfort level will be an asset. And some waitstaff or managers may be beloved by customers.
Alternatively, if you are buying a business that needs improvement, it may be wise to clean house.
7. Permits and Licenses
Find out what registrations and licenses are in place and can be transferred. If you will serve alcohol, depending on your state's laws, the previous owner's permit may not carry over.
8. Systems and Documentation
Is there an efficient, organized software system or systems in place?
Also, every successful restaurant will have detailed documentation for operation, including employee handbooks, human resources files, and more.
9. Lease
If you aren't buying the real estate itself, the lease will be another important factor to get a handle on, and first and foremost you'll need to understand what business activities are allowed under the lease. Find out, too, if the seller is in the middle of the lease term. You'll likely need to get the lessor to agree to let you assume the lease, so make sure it is not unfavorable or overly burdensome.
For example, if you need to renovate and make improvements to the property, make sure that's allowed.
What about public areas? If you share a shopping center with other tenants, how many parking spaces are allotted for the sandwich shop?
There is much more to examine in the lease. A lawyer with experience in buying restaurants can help you understand the key lease terms for restaurants.
Outstanding Legal Issues or Tax Problems
Look for lawsuits against the owner or the owner's corporate entity, as well as liens against the property, equipment, and fixtures.
If there are pending legal actions against the owner, consider buying only the assets of the business, not the company that owns it. But be sure to talk to a lawyer about these issues.
Also, a lawyer can help you become aware of any potential re-zoning that may happen in the area or development that may hinder your use of the property or traffic.
The Franchise Advantage
Many entrepreneurs looking at sandwich shops for sale are investors with no prior foodservice experience. Buying an independent restaurant without experience is extremely risky.
Even buying an existing independent restaurant that is already running, after doing all the homework described above, can be a guessing game. A seller may use smoke and mirrors to hide the fact that the business is unhealthy.
For this reason, an even lower-risk approach is to start a grilled cheese sandwich franchise. A franchise comes with a proven blueprint for success, distilled into a system that is honed for success, yet primed for growth. The franchisor has been through the trial and error to develop best practices.
A franchise sandwich shop is a package for profit.