Key Elements of a Successful Soup and Sandwich Franchise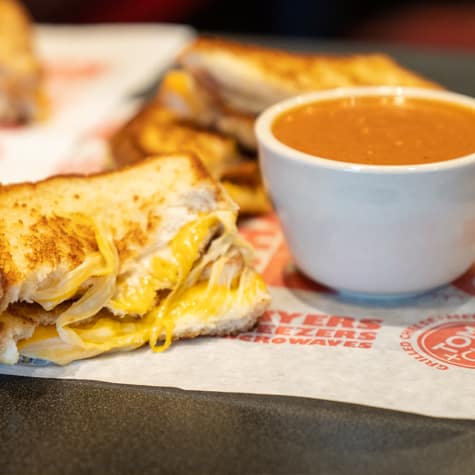 A successful soup and sandwich franchise understands its image, what its customers desire, and how to deliver profits. Here are six key elements to success.
A WINNING COMBO
The ubiquity of the classic soup and sandwich combination presents you with the perfect opportunity to narrow your scope with a unique concept to help you stand out from the competition. Tom & Chee has done just that by centering its restaurants around America's most beloved pairing: a gooey grilled cheese, and hot and zesty tomato soup. With a playful spin on comfort food, Tom & Chee presents an unrivaled take on the fast-casual market.
EMPHASIS ON CUSTOMER SERVICE
A well-trained and happy team believes in the food they are serving and looks forward to going to work every day. This energy translates to the customer and contributes to an overall positive restaurant environment. Strong leadership involves instilling confidence in your staff, backed by comprehensive training, a solid support structure, and positive reinforcement.
When you walk into a Tom & Chee restaurant, you are greeted with a smile. Alongside our delicious soups and sandwiches, we prioritize providing a happy, memorable dining experience for you to share with your friends and family.
TOP-NOTCH MARKETING
A dynamic menu and enthusiastic team deserve to be talked about. One of the benefits of franchising with a well-established brand is the backing of a team of marketing experts to promote your business and attract customers. The right methods will help you grow brand awareness in your community, connect with your target market, and build excitement among soup and sandwich lovers everywhere.
With over a decade of franchising experience, Tom & Chee provides world-class marketing support to help you create and sustain a meaningful presence and drive your success.
THE PERFECT LOCATION
Where you choose to open your soup and sandwich franchise can have a significant impact on your success. Things like accessibility, restaurant layout, and neighboring businesses are all factors that affect your business.
Tom & Chee has a devoted team of experts who know exactly what it takes to find the perfect location. They will walk you through the whole site selection process to establish your presence in an ideal area suited to your restaurant and its customer base.
INNOVATIVE IDEAS
Soup and sandwiches are a near-blank canvas opportunity. In order to truly succeed, your restaurant must find ways to distinguish itself from the competition and appeal to hungry diners.
Tom & Chee seizes that opportunity to be a stand-out restaurant franchise, bringing creativity and innovation to the menu. Beyond melts and soups, Tom & Chee offers an array of enticing menu items, from fresh salads to decadent desserts, including the unforgettable Grilled Cheese Donut.
When customers know you have gone out of your way to give them a unique experience, you create lasting relationships. By providing customers classic comfort food with a twist, Tom & Chee makes a memorable impression that keeps folks coming back for more.
LOVE WHAT YOU DO
Some of the most successful restaurant franchise owners started with little or no industry experience, but their enthusiasm and entrepreneurial spirit helped them grow their business beyond their wildest dreams. Tom & Chee recognizes that passion and drive and is fully prepared to match it with the backing of our award-winning brand.
Working with both new restauranteurs and seasoned business owners, we give you the name recognition, training, operational and marketing assistance, and ongoing support to create a lasting business in a booming $23 billion industry.
To learn more about opening your own Tom & Chee franchise, please visit us.