Tom & Chee Franchise Review: Q&A with Khusro Iqbal
How a barber shop owner became a multi-unit operator of a rapidly expanding grilled cheese franchise
Prior to becoming a Tom & Chee grilled cheese franchise owner, Khusro Iqbal owned and operated four high-end barber shops in the metro Oklahoma City, Oklahoma, area. Although his operations were successful, he was ready to diversify his business and invest in a franchise system that provided comprehensive training and support to ensure his business was a success from the very beginning. 
After a friend introduced him to Tom & Chee, Iqbal found that it was the perfect fit. Founded in 2009, our fast-casual sandwich and soup franchise earned a cult-like following after appearing on ABC's "Shark Tank" in 2013. Since then, we have continued to elevate comfort food by serving delicious, handcrafted melts including our own unique spin on beloved sandwiches such as the Philly Cheesesteak, the Cuban, Grilled Cheese and Cincinnati's own Westsider.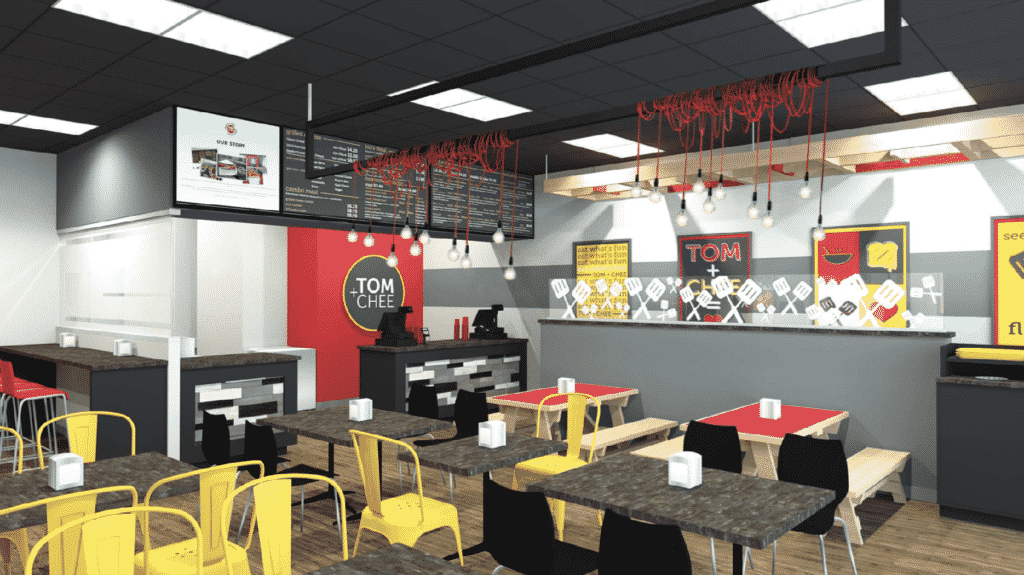 Additionally, our powerhouse support from GSR Brands, a franchise system with more than 50 years of experience in helping franchisees thrive, proved to be just what Iqbal was looking for. So much so that he's currently in site selection for his second Tom & Chee location. 
Here's his story: 
Did you look at any other concepts prior to franchising with Tom & Chee?
Iqbal: My brother and I did look into other concepts. However, our goal in the Oklahoma City market was to find a new service-based brand and invest in it. After a friend told me about Tom & Chee and its popularity from ABC's "Shark Tank" I researched it and was impressed. Their spin on grilled cheese sandwiches and soups was unique compared to the numerous burger, Mexican food and pizza concepts already oversaturating the market. That's what compelled us to bring the brand to Oklahoma City – and we were right. 
How was your initial training with Tom & Chee? 
Iqbal: It was realistic and I was very excited about attending the "Day in the Life" training. This is where franchisee owners spend the day at Tom & Chee headquarters in Cincinnati, Ohio, and learn how to master the Tom & Chee business by being in the business. This includes learning everything from how to greet customers to preparing the food on the menu to mastering the point-of-sale system as well as leading a team and more. Additionally, there was classroom-style training. 
How does Tom & Chee support you in your business? 
Iqbal: Tom & Chee are very hands-on compared to my experience with the barber shop franchise. They are very active in addressing the needs for the menu, the design of the company, and they're very forward-thinking when it comes to new ideas. I think because it's a new concept they're more willing to listen to the franchisees and also make necessary changes as needed, which is a big plus for someone like me who came in without any restaurant experience. 
Additionally, their support was invaluable during the site selection and build out phase. Tom & Chee provided us with a full suite of comprehensive support, including a real estate team to help choose the right location, and right-sizing restaurants to ensure both buildout costs and monthly rent is affordable. 
Would you recommend Tom & Chee to entrepreneurs looking for a business opportunity? 
Iqbal: Yes, I certainly would. Tom & Chee is a very hands-on franchise and anyone who is looking for a franchise opportunity would do well to consider them. Not only are they an affordable opportunity, but they also are a unique concept because we still benefit from the exposure of appearing on ABC's "Shark Tank." People still associate us with that show and after they come to the restaurant and try our food, they have a new association – the food. There is something for everyone at Tom & Chee and the success of the brand speaks to that. 
What skills do you need to succeed as a Tom & Chee franchise owner?
Iqbal: In order to succeed with a business like Tom & Chee, entrepreneurs need to have a realistic idea of understanding the business. It would help having some experience in the restaurant industry, even if you worked for a restaurant. Also, it's very important that you are a people person because it's your job as the franchise owner to help bring awareness to your business in the local market. Again, many people know us from "Shark Tank," however, organic local marketing is going to keep us relevant in our communities. 
What are you most proud of?
Iqbal: I'm most proud of setting up a successful business. We're profitable and our sales are healthy. Most importantly, the talent we employ have had decent tenure considering the high employee turnover rate in the restaurant industry. That speaks volumes because it means they're happy and management is doing well. 
Why is now a good time to invest in a Tom & Chee?
Iqbal: There's never a bad time to invest in a business. However, I think it's a great time to invest in Tom & Chee because it's a unique, fresh concept. Additionally, corporate is more than willing to assist franchise owners in whatever way necessary to ensure our success. They are truly committed to helping us thrive in business over the long-term. 
READY TO BRING THE ONE-OF-A-KIND MELT FRANCHISE TO YOUR COMMUNITY?
Don't let this franchise opportunity melt away. Join the $23 billion sandwich industry by becoming a Tom & Chee franchise owner. The total cost to invest in a Tom & Chee grilled cheese franchise begins around $302,700, with an initial franchise fee of $30,000 for the first location. GSR Brands has more than 50 years of experience, and they are ready to help you prosper. Due to the high level of training and support, Tom & Chee doesn't require you to have restaurant experience, only a passion for food and service.
For in-depth details about the Tom & Chee franchise opportunity, request a copy of our free franchise report. You also can learn more by visiting our research pages.