Tom & Chee Franchise Review: Q&A with John Gerth
How a former franchise advisor became a multi-unit owner of a rapidly expanding grilled cheese franchise
Before John Gerth became a Tom & Chee grilled cheese franchise owner, he worked for many years as a franchise advisor for a national restaurant group based in Cincinnati, Ohio. After some time, Gerth was ready for something different and decided to go into business for himself. He sought an opportunity with high-profit margin potential, and most importantly, a robust training and support program as this was his first venture as an entrepreneur. 
Tom & Chee was the perfect opportunity. Our low-cost business investment makes us one of the most affordable franchise opportunities in the thriving $23 billion sandwich industry. We excel as the perfect sandwich franchise with our cult-like following, that was earned after receiving tremendous brand recognition from appearances on ABC's "Shark Tank," spurring our growth to more than 12 locations across seven states.
Today, we are poised for a new era of rapid growth with not only exceptional support from GSR Brand's 50-plus years of experience but also an innovative playful menu unlike anything else in the sandwich industry. With that said, our bread and butter is helping our franchise owners thrive in business over the long-term. Now as a multi-unit operator with Tom & Chee, Gerth has three thriving locations in Cincinnati and was able to scale up quickly by utilizing our simplified business model, state-of-the-art training and robust ongoing support.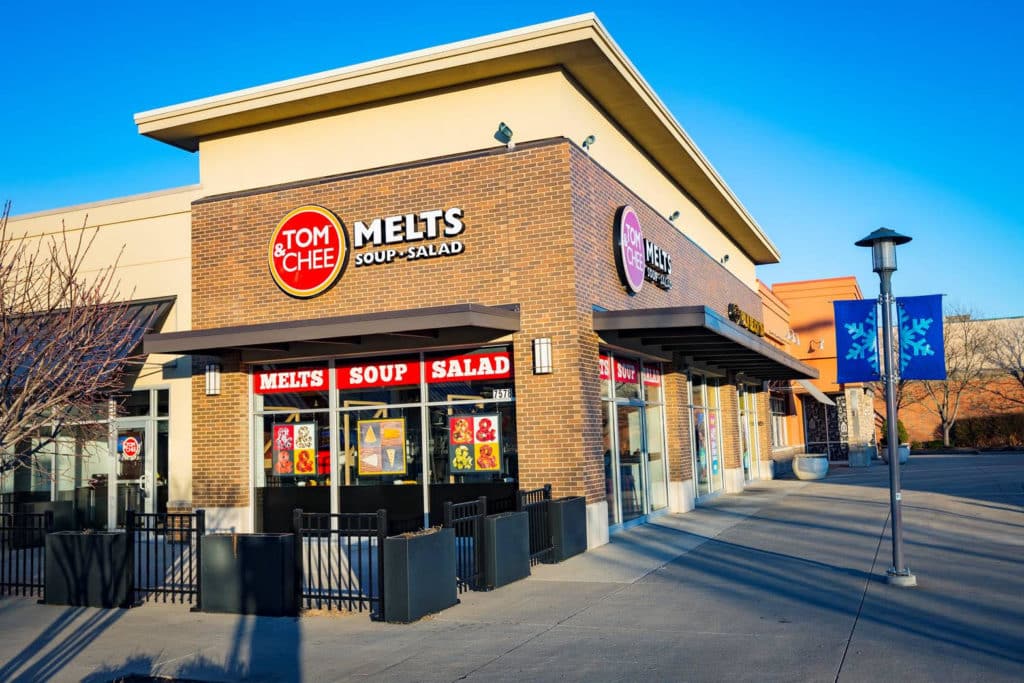 Here's his story:
Why did you become a Tom & Chee franchise owner? 
Gerth: It's always been a dream of mine. I've been a fan of their delicious food since college and have always wanted to be on the ownership side of it. Additionally, I knew about their appearances on Shark Tank, and their local success story, which sparked my interest even further.  I knew they had a great brand name. Fortunately, the opportunity presented itself at the right time in my life, so I took a leap of faith and seized it. 
Today, I own three Tom & Chee brick-and-mortar locations and operate another location at Kings Island, the largest amusement and waterpark in the Midwest. That location is seasonal and its hours coincide with the operation of Kings Island. 
How does Tom & Chee support you in your business?
Gerth: It has been wonderful under the new leadership of GSR Brands. Prior to them taking over, I felt that the brand messaging for Tom & Chee was a bit lackluster. GSR Brands has since done an excellent job overhauling that. Even better, they have cultivated a phenomenal relationship with the franchise owners. I truly feel like I am not alone in my business because they provide me with powerhouse support. 
What are you most proud of?
Gerth: I'm proud of the freshness of everything that we do. First, it's truly remarkable what we've been able to do with our food. We make everything in-house, so everything is served fresh. I'm proud to be a part of a food sandwich franchise that pays close attention to the culinary side of things. Tom & Chee provides a delicious and quality product to our guests on a daily basis. Second, anyone can make a grilled cheese sandwich. However, you haven't had one until you've experienced Tom & Chee. We make ours with a unique spin. For instance, some of our grilled cheese sandwiches are served with a house-made pesto sauce or hand-carved slow-roasted chicken in the oven. The best part? Seeing the delight on a guest's face after they've taken the first bite. 
What are your hopes for your business?
Gerth: We'd certainly love to grow even more. And I am most excited to see the new prototype restaurant that just opened in Anderson, Ohio. I plan on checking out the new design, new menu items and the layout. I am very excited to see how Gold Star is re-inventing Tom & Chee and how that will benefit us as franchise owners. 
Why is now the time to invest in a Tom & Chee?
Gerth: Now IS the right time to invest in a Tom & Chee grilled cheese franchise. GSR Brands has been simply phenomenal and I believe that trend will continue. With the vision and new brand awareness that we have, Tom & Chee is the perfect opportunity. If the new prototype does what I think it should, which is help streamline efficiencies and lower build-out costs – pair those with the support of a 50-year-old company – this is more than the right time to invest in a Tom & Chee. 
READY TO BRING THE ONE-OF-A-KIND MELT FRANCHISE TO YOUR COMMUNITY?
Don't let this franchise opportunity melt away. Join the $23 billion sandwich industry by becoming a Tom & Chee grilled cheese franchise owner. The total cost to invest in a Tom & Chee franchise begins around $302,700, with an initial franchise fee of $30,000 for the first location. GSR Brands consists of more than 50 years of experience, and they are ready to help you prosper. Due to the high level of training and support, Tom & Chee doesn't require you to have restaurant experience, only a passion for food and service.
For in-depth details about the Tom & Chee franchise opportunity, request a copy of our free franchise report. You also can learn more by visiting our research pages.