After Reset, Melt Concept Tom & Chee Plots Franchise Growth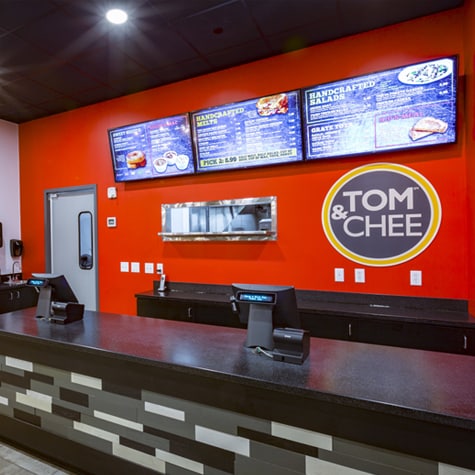 *Originally posted on franchisetimes.com
After more than two years spent retooling the grilled cheese and soup concept it acquired in September 2017, GSR Brands was primed to relaunch franchising for Tom & Chee in 2020. The COVID-19 pandemic quickly hampered those plans, but now GSR CEO Roger David is ready to try again.
"The pandemic has been a little bit of a shot to the gut," said David. "We're resetting the table to go at it again."
During the interview, a new franchise agreement for a location in Texas landed on David's desk, he said, adding to the two units in development in Oklahoma City and Pittsburgh. Just seven restaurants are open, in Ohio, Kentucky, Georgia and Texas as the system contracted in recent years after fast growth early on. In what David described as a tale as old as franchising, Tom & Chee "got out over its skis" but now has the opportunity to expand with the right support.
"The sandwich category has always been interesting to me … it's become a sea of sameness, and this is a concept that was different," he said.
Rapid expansion
An appearance on "Shark Tank" in 2013 propelled what started as a pop-up grilled cheese stand in Cincinnati into a franchise that quickly grew to a smattering of 35 units across more than 10 states. By 2015, stores began faltering as operational complexity increased, support was lacking and closures started to mount. When GSR, the parent company of fellow Cincinnati franchise Gold Star Chili, bought the assets in 2017, Tom & Chee was down to 23 restaurants.
"They did not truly have the infrastructure in place to support the growth, nor did they have the criteria to find good franchisees," said David of founders Trew Quackenbush and Corey Ward. Seventy-unit Gold Star, however, had the ability to put system standards and processes in place, and viewed Tom & Chee as a growth vehicle it could expand beyond the more limited geographic appeal of its Cincinnati-style chili brand.
"So, in the right hands we felt we could seed it and help it grow," said David, who noted he visited several stores during GSR's due diligence phase and spoke to numerous customers who "would convince me it was the best sandwich they'd ever had."
New prototype rollout
Tom & Chee's early growth resulted in restaurants that ballooned to 3,000 square feet, with scratch kitchens where employees were tasked with roasting meats and executing on extensive menus of made-to-order sandwiches.
"When you grow the space, you grow the expense," said David of franchise start-up costs, "so we had to right-size the footprint" and simplify operations. As part of the brand's relaunch, GSR created a new prototype at about 1,600 square feet and adjusted kitchen operations to reduce prep time while also trimming the menu by 60 percent.
"The consumer experience had become so involved and overwhelming," said David. "I watched customers stare at the menu board … the menu was way too big, with way too many options, way too many build-your-own options that it was paralyzing."
GSR also changed up the kitchen equipment, switching from steam shell grills to high-speed ovens and cutting sandwich cook times from about four minutes to 50 seconds. "This also helped address the skill level needed in the kitchen," explained David, and should serve to broaden the labor pool from which Tom & Chee can draw.
The cost to start a Tom & Chee franchise ranges from $302,700 to $456,000.
A new prototype opened in January 2020 in Cincinnati, and as it works to expand with franchisees in Ohio and in its other existing markets, Tom & Chee will build another corporate restaurant, David said. "We're very bullish on the changes we've made."