Zoup Franchise vs. Tom & Chee: How They Compare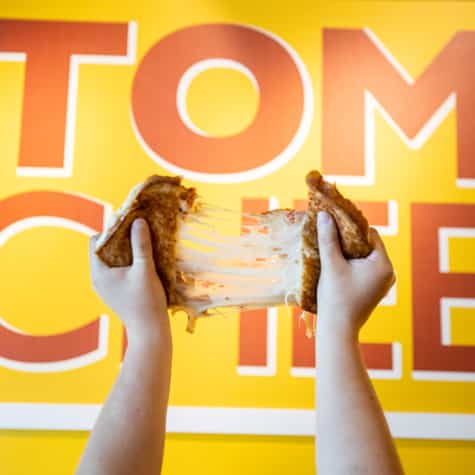 Find out if you should consider purchasing a Zoup franchise. Read to see how its benefits compare to owning a Tom & Chee franchise.
LEARN WHAT ZOUP! IS STIRRING UP
Zoup! was founded in 1998 in Southfield, Michigan, with five more locations opening in the Detroit area over the next five years. The first Zoup! franchise opened in 2003 and has since grown to 70 stores. The Zoup! brand's mission is to be "better than good enough." The brand started primarily as a soup concept, with 12 rotating daily specials, but developed its menu to include salads, sandwiches, and broth and grain bowls.
Zoup! franchise costs require a minimum of $150,000 cash liquidity and $500,000 net worth for a single-unit franchise, with a minimum of $300,000 liquidity and $1 million net worth for multi-unit ownership. Each unit requires an initial total investment between $357,900 to $650,000, with an initial single-unit franchise fee of $39,900. In terms of ongoing fees, Zoup! also requires a weekly royalty fee of 6 percent of gross sales, 2 percent marketing royalty, and 0.5 percent training and customer service fee.
The profitability of a Zoup! franchise will vary depending on a number of factors, including sales, labor and food costs, location, and operating costs, as well as a franchisee's hands-on involvement. In 2019, the top 25 percent of Zoup! locations averaged $898,854 in sales. More information on sales figures and costs can be found in the brand's FDD (Franchise Disclosure Document).
TOM & CHEE MELTS THE COMPETITION
Not satisfied to be just another contender in the fast-casual restaurant industry, Tom & Chee has built its success around one of America's most timeless food combos: the grilled cheese and tomato soup. The beloved classic is elevated by a unique and modern menu that provides different riffs on the combo, each more delicious than the last.
What began in a humble tent in Cincinnati's Fountain Square in 2009 quickly but quietly grew to multiple stores in the Cincinnati market, and they began franchising in 2012. Tom & Chee serves much more than simple grilled cheese — it's a sensory experience that starts with great service and ends with satisfaction. From adventurous, handcrafted melts to savory soups and fresh salads, the menu offers elevated comfort food, with options like gluten-free bread, vegan cheese, and vegan/vegetarian menu items to satisfy every guest. For 2021, Tom & Chee was selected by Franchise Gator as one of the Top 100 Emerging Franchises for its financial stability, growth, transparency, engagement, continuity, and sustainability.
Tom & Chee is one of the most affordable franchise concepts in the $23 billion sub and sandwich category. This makes Tom & Chee an outstanding opportunity for first-time business owners and experienced restaurateurs alike. The total cost to invest in a Tom & Chee franchise ranges from $302,700 to $456,000, which is well below other brands in the fast-casual category. Cash liquidity and net worth required to invest are $125,000 and $300,000, respectively. Tom & Chee asks an ongoing royalty fee of 5 percent and a marketing fee of 1.5 percent.
As Tom & Chee continues to grow, the brand prides itself on still operating as a family. All franchise owners enjoy comprehensive training, marketing support, and round-the-clock access to resources and assistance backed by an expert team with over half a century of successful franchising experience. With a strong support network and a focus on quality and customer service, Tom & Chee provides a winning franchise opportunity for new and seasoned entrepreneurs.
To learn more about franchising with Tom & Chee, download our free franchise report.