Togo's Franchise vs. Tom & Chee Franchise: Comparing Grilled Cheese Restaurants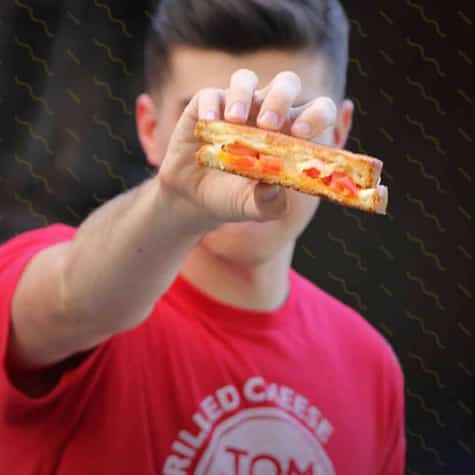 Which grilled cheese sandwich franchise is the best to own? See how a Togo's franchise compares to owning a Tom & Chee restaurant.
THE TOGO'S STORY
The origin of the Togo's name has a double-meaning. The first location was opened in 1964 by two students of Northern Michigan University, Tom Neumann and Gordon Reed. The name of their sandwich shop combines the first parts of both founders' names while also nodding to the lack of seating in their first location, hence it's "to go" nature. Reed moved to San Jose, California in 1968 and opened Togo's first West Coast location, where students and locals were drawn to the same style that made the restaurant a success back in Michigan.
Togo's began franchising in 1977, with shops now serving sandwiches, salads, wraps, and soups to hungry customers across 180 locations. Togo's bills itself as a "West Coast Original" who stays "True to the Sandwich."
The details of a Togo's franchise cost require a minimum of $150,000 cash liquidity and $300,000 net worth for a single unit franchise. Each location requires a total investment between $238,500-$477,700 with an initial franchise fee of $30,000. In terms of ongoing fees, Togo's franchisees pay 5% royalty and 3% advertising.
The profitability of a Togo's franchise (or any other franchise, for that matter) depends on a number of factors and variables including annual sales, labor and food costs, location and operating costs, as well as the level of franchisee involvement. More information on sales figures and costs can be found in the brand's FDD (Franchise Disclosure Document).
TOM & CHEE: A TRUE ORIGINAL
Tom & Chee has built its success around one of America's most timeless food combos: the grilled cheese and tomato soup. The beloved classic is elevated by a unique and modern menu that provides different riffs on the combo, each more delicious than the last.
The Tom & Chee story began in a humble tent in Cincinnati's Fountain Square in 2009 and quickly but quietly grew to multiple stores in the Cincinnati market. They began franchising in 2012 and then rocketed to success after an appearance on Shark Tank in 2013. Nowadays, Tom & Chee is the foremost grilled cheese restaurant chain in the nation. From adventurous, handcrafted melts to savory soups and fresh salads, the menu offers elevated comfort food, with options like gluten-free bread, vegan cheese and vegan/vegetarian menu items to satisfy every guest. For 2021, Tom & Chee was selected by Franchise Gator as one of the Top 100 Emerging Franchises for its financial stability, growth, transparency, engagement, continuity, and sustainability.
Tom & Chee provides an outstanding opportunity for first-time business owners and experienced restaurateurs alike. The total cost to invest in a Tom & Chee franchise ranges from $302,700-$456,000, which is well below other brands in the fast-casual category. Cash liquidity and net worth required to invest are $125,000 and $300,000, respectively. Tom & Chee asks an ongoing royalty fee of 5% and marketing fee of 1.5%.
As Tom & Chee continues to grow, the brand prides itself on still operating as a family. All franchise owners enjoy comprehensive training, marketing support, and round-the-clock access to resources and assistance backed by an expert team with over half a century of successful franchising experience. With a strong support network and a focus on quality and customer service, Tom & Chee provides a winning franchise opportunity for both new and seasoned entrepreneurs.
To learn more about franchising with Tom & Chee, apply now.