QSR Franchise: How to Start an Affordable QSR Franchise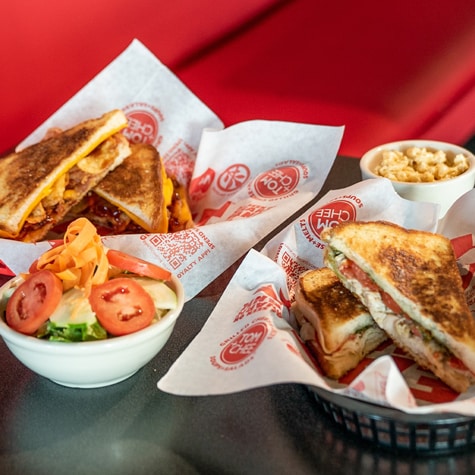 For most entrepreneurs, it's not realistic or practical to spend seven figures to start a QSR. Luckily, more cost-effective options exist and give you plenty of value for your investment. Here's how to start an affordable QSR franchise.
FINDING YOUR HOME: SOME THINGS TO CONSIDER
The fast-food franchise market is wide and diverse, so it's important that you take the time to find a QSR brand that not only fits your investment budget but also aligns with your values and goals and offers strong growth potential.
Unique POV. Because the market is so saturated, look for a QSR concept that provides an innovative approach or a fresh perspective on an old favorite, like what Tom & Chee does with the classic grilled cheese and tomato soup combo.
Market Share. Some franchisors provide market research on their given industry, but it is equally important that you study the growth potential in the local community where you plan on opening your business. Grab-and-go salads may be the hottest franchise concept in your area, but if your neighborhood is already saturated with such restaurants, you may want to pursue a different avenue.
Initial Investment. Compare and contrast franchise fees and overall initial investment costs between a few of your favorite contenders, bearing in mind the levels of support, training, and business infrastructure offered to you for the price of your investment.
Ongoing Fees. Almost every QSR franchise entails ongoing fees to be paid regularly by the franchisee on top of initial investment costs. The FDD will lay out the percentage amounts and payment schedules of these fees in detail specific to each franchisor, but a couple of the most common categories of ongoing fees include royalty and marketing fees, which are fairly standard across the industry. With a brand like Tom & Chee, your marketing fees end up being invested back into your business through local outreach and advertising, as well as digital ad campaigns to promote your business.
A STANDOUT BRAND
Within the broader QSR franchise sector, Tom & Chee makes the entire startup process incredibly easy and affordable for both new and seasoned restauranteurs who are passionate about good food, top-notch customer service, and community.
Our team will work with you to find the optimal real estate in your community, and then our build-out team will walk with you through every step of the process, from property lease or purchase to grand opening. Our royalties and marketing fees also are calibrated to be in line and or below market standards.
At the end of the day, you want to know that you are investing in a franchise that will be equally invested in you. As an award-winning brand backed by a parent company with over five decades of franchising experience, Tom & Chee offers enthusiastic, like-minded entrepreneurs an exciting and affordable opportunity to join a winning restaurant franchise. By providing unparalleled support, marketing, and a world-class franchise system, Tom & Chee is committed to seeing our franchisees succeed beyond their wildest dreams.
DIVE IN WITH TOM & CHEE
As a QSR franchise, Tom & Chee is unique in that we are closely invested in the success of each and every one of our franchise owners. The support doesn't stop once you become a member of the team. Tom & Chee provides franchise owners with a comprehensive operational guide and 24-hour access to team members to address any questions or issues that may arise. Tom & Chee franchisees work with calibration specialists to ensure seamless operations and success on a regular basis.
Tom & Chee is all about elevated comfort food, serving up a delicious, memorable experience for friends and family to enjoy together. Our origin story has taken us from humble beginnings to a growing number of territories in North America, and we're still just getting started.
If you would like to learn more about franchising opportunities with Tom & Chee, please visit us.