Food Truck or Restaurant? Choosing a Strong Investment in the Food Industry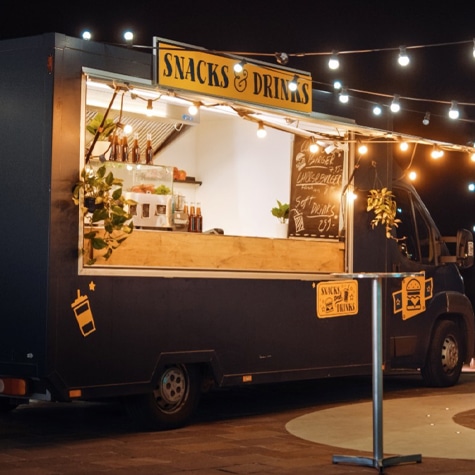 We've all seen them. We've all ordered from them. But have you ever found yourself envious of a food truck owner? The ability to make your own hours, be in a new location every day, serve food to those who are stepping out for their lunch break. It almost sounds too good to be true. So, is it?
If you're considering starting your own restaurant concept, you may be wondering if it's better to own a food truck or restaurant business. When making your decision, consider aspects like food truck cost and profitability of a brick and mortar restaurant. Let's break down the top pros and cons of food truck ownership.
PROS OF OWNING A FOOD TRUCK
LOW STARTUP COSTS
When researching the cost to buy a food truck, you may see a wide range of startup costs. However, for the most part, starting a food truck costs less than most brick and mortar restaurants.
Also, keep in mind that when you buy a food truck, you don't have to worry about leases and rising rent costs like you do with a brick and mortar location.
GREAT TRIAL CONCEPT
If you're interested in eventually starting a brick and mortar location, going with a food truck may be a great first step. Since the cost of a mobile food truck is more affordable, you'll be able to bring your restaurant concept to life for less. A food truck also gives you the chance to experiment and see what works best before investing in a brick and mortar restaurant. This includes refining the menu and determining best sellers.
FREEDOM OF LOCATION
One of the biggest perks of owning a food truck is the flexibility of selling your product in multiple different places. As you establish your route in the first few weeks and months of owning a food truck, you'll know what locations are best on which days.
Another benefit over a brick and mortar location is your ability to move with ease. If you've been serving a certain neighborhood for a while and then the area starts to have a large amount of construction, you can move out of that area – unlike a brick and mortar restaurant.
CONS OF OWNING A FOOD TRUCK
Like most things, there are always downsides to consider.
WEATHER CAN IMPACT SALES
Without a brick and mortar location, there's nowhere for customers to dry off or warm up during inclement weather. And while people may love your food, they most likely won't want to wait in the pouring rain to get lunch.
INTENSE COMPETITION
Due to food truck affordability, it's likely that you'll have a lot of competition in your area. It's common that food trucks are all vying for space on the same main street of a city. You'll want your concept to separate you from the rest of the trucks parked near you. You'll also need to serve customers quickly and efficiently as to not lose them to your competitor parked next to you.
CONFINED SPACE
Contributing to your low food truck costs, you'll be working in a small space all day every day. While more cost effective, it can become difficult if you hire more people to help you as you grow.
Keep in mind, too, that you can't just park your food truck anywhere and sell your product. You'll need to understand the zoning laws in the city you're looking to serve and acquire the required permits.
TOM AND CHEE: A TOP BRICK AND MORTAR RESTAURANT INVESTMENT
So, what is a brick and mortar restaurant and why is it a better investment? A brick and mortar is a traditional storefront building that allows customers to come in and pick up their orders or dine in.
When you're researching whether to open a food truck or restaurant business, you may come across the idea of franchising. Tom & Chee is a reputable franchise investment specializing in serving the ultimate comfort food – grilled cheeses, soups, and salads.
Compared to a melt shop franchise, food trucks may come in at a lower cost, but Tom & Chee provides an affordable franchise investment ranging between $302,700 and $456,000. With a franchise, investors can have more security of a proven business model and ongoing support.
If you're ready to get started with Tom & Chee, fill out this form and one of our representatives will be in touch.