6 Reasons Donut Sandwich Restaurants are all the Rage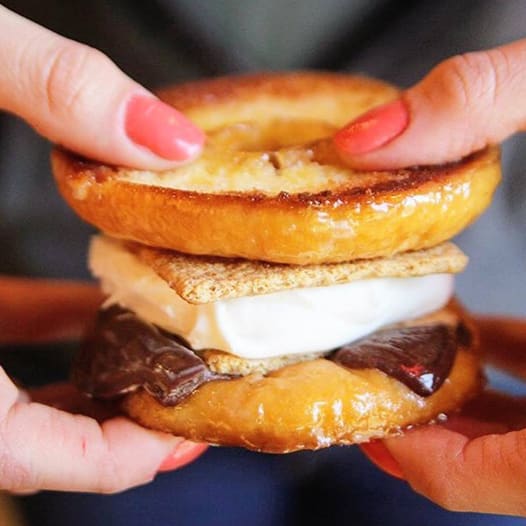 Donuts and sandwiches have always been reliable, delicious menu options, individually, so why does the mash-up of the two suddenly seem to be popping up everywhere? Something about combining sweet and savory, convenience and indulgence, has customers hooked and is proving to be an exciting business opportunity.
MASH-UPS ARE FUN!
Mash-up food items offer the familiarity of two (or more) seemingly unrelated things thrown together in a new way. Popular food mash-ups that have emerged in recent years include lobster mac 'n' cheese, sushi burritos, taco French fries, and of course, donut sandwiches. Food mash-ups combine flavors in unpredictable, often whimsical ways, allowing the opportunity for a broader range of options and possibilities.
PALATES ARE EVOLVING
As more food options become available every day, customers' tastes and preferences are changing to adopt new flavors and food styles. Customers are no longer satisfied with restaurants that don't offer them options. While folks will always enjoy a hint of what's familiar, restaurant concepts are diversifying to include more unique fare to suit a broader range of tastes and sensibilities.
Something so appealing about donut sandwiches is the sweet and savory flavor combination. Humans are wired to desire a variety of foods and tastes, and if we eat the same things over and over, we will eventually seek something new. All salty or all sweet won't cut it. Donut sandwiches allow for something called "flavor layering," the melding of flavors that gives a more well-rounded, satisfying eating experience. Salty and sweet are both craveable on their own, so the combination of the two are extra mouth-watering.
FILLING A NICHE
While sandwich shops and donut restaurants have been around forever, something like a donut restaurant shop fills a gap between the two, capitalizing on the popularity of both and providing more opportunities for unique combinations to attract customers.
A donut sandwich restaurant allows restauranteurs to show a broader range of culinary creativity on their menus. The flavor combinations are endless and can be tailored to a wide range of tastes.
And while donuts are generally a breakfast or snack food and sandwiches are often a lunch or dinnertime option, the combination of the two gives restauranteurs a competitive edge over both market competitors.
There are more than 25,000 donut shops in the United States, serving up over 10 billion donuts a year. Also, in the U.S., the sandwich and sub franchise industry is worth over $19 billion. The merging of two long-standing and popular markets offers a great opportunity for new restauranteurs or seasoned entrepreneurs looking to diversify their investments.
DONUT SANDWICH FRANCHISES ARE BIG QSR
A QSR, or "quick-serve restaurant," is arguably the largest segment of the dining industry, having proven time and time again to be where it's at for franchisees. QSRs dominate the Franchise 500 List year after year, making them attractive investment opportunities for burgeoning entrepreneurs and seasoned pros alike.
Donut sandwich restaurants fit perfectly into the QSR segment, providing a quick, delicious meal for customers and a sustainable product for restauranteurs.
MULTI-FUNCTIONALITY
As a donut sandwich restaurant, you can offer customers a variety of menu items that don't have to adhere to one particular meal type or time of day. Donut sandwich restaurants can operate as breakfast cafes, lunchtime hangout spots, or dinner gathering locales. While people tend to spend less time inside traditional QSRs, the ability to broaden your scope means that customers are more likely to stay longer. The longer someone stays in your restaurant, the more likely they are to purchase more.
ENDURING POPULARITY
The story varies on exactly who and where gets to claim credit for the invention of the donut sandwich, but that only proves what a good idea it was in the first place. Over the past couple of decades, new franchises have emerged paying specific homage to the mash-up food, and even massive chains like KFC and Krispy Kreme have offered their own versions. While there are plenty of independent donut sandwich restaurant concepts, the benefits of opening your restaurant with a franchise are far-reaching.
Tom & Chee offers investors a stand-out sandwich franchise opportunity in the crowded QSR market. Tom & Chee capitalizes on the everlasting popularity of the grilled cheese sandwich by offering its own unique and elevated spin on the classic. Sandwich concepts and donut shops are a dime a dozen, but Tom & Chee stands out by focusing on providing a top-notch customer experience with fun, delicious, handcrafted, and affordable food. Tom & Chee provides the perfect dining experience suited to any age, taste, and dietary preference, offering a range of cheesy sandwiches as well as soups, salads, and other delicious options.
And of course, there's the famous grilled cheese donut sandwich!
Tom & Chee is excited to meet prospective franchisees and tell you more about why we might be the perfect fit to help you reach your restaurant dreams. To learn more, click here.